3 Components of the Perfect Elevator Pitch for IT Candidates
Career Advice, Interview Preparation, Job Seeker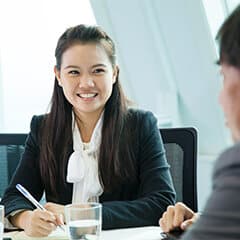 Lisa Leff | Director of Recruiting – Atlanta, GA
Want to stand out as premier talent as you pursue a new job in information technology? A great way to do so is to have a perfected elevator pitch ready to go for your next interview or networking event. As an IT recruiter, I have witnessed several candidates stumble through their elevator pitch or personal branding statement while networking. In 30 seconds or less, an IT candidate needs to be able to provide valuable insight on who they are professionally and what type of job in information technology they are looking for. How do you successfully accomplish this goal? It is best to be concise and organized in your thought process. The easiest way to do this is by separating your pitch into three main components: a brief definition of who you are, a recent success story and the next steps.
Definition
During your intro as an IT candidate, it is important to clearly define who you are professionally. The best information you can provide as a candidate during this time is the specific title of the job in information technology you currently hold or are seeking, and the industry you specialize in. For example, "I am a senior web developer in the healthcare industry." Then for more detail, mention the size and scope of IT projects you have worked on in the past.
Successes
Once you have introduced yourself, give a quick business success story highlighting a project you recently completed. Prove to your listener why you would be beneficial to their organization. This is the time to mention your strengths and any unique skills you have. Be careful to only mention success stories that focus on your contributions – not those of co-workers.
Next Steps
Once you have proven your value, it is time to ask for a next step or contact information. Here is an example: "I'd love to follow up with you and connect on how I can be a valuable asset to your team. Do you mind exchanging information?" Asking for the next step is not only a great example of initiative but shows how serious you are in pursuing the opportunity.
As an IT candidate, it is critical to remember that your pitch should always be relevant to the listener. Make sure you are tailoring the pitch to each audience, whether that is an IT recruiter within the firm or a contact at an information technology staffing company. To do this, it is helpful to do your homework beforehand. If you are heading to a conference or networking event, look up the companies that will be attending. Then, formulate quick summaries of recent projects and success stories relevant to each industry or company you are interested in.
Other tips to help you successfully deliver your elevator pitch:
Stay professional. Try to avoid irrelevant personal details and stay focused on business.

Practice is key. It is helpful to write down your talking points, it will help you remember them.

Look good. Dress for the occasion and look the part, even if that means wearing a suit.

Be articulate. How you deliver the pitch is just as important as what you say. Your goal is to come across very sharp and confident even if you are uncomfortable with what you have to say.

Follow your gut. Once you close, your gut will let you know if you should continue speaking.

Know what you are good at. Pick something and go with it! You will be more convincing when you know the skills you are pitching.
Once you are prepared, you will be much more confident in yourself and what you are saying! As a IT candidate seeking a job in information technology, if you can deliver your pitch with authority and grace, you will stand out and make it to the next step with ease.
About Genuent
Genuent is the technology staffing firm focused on delivering masterful technologists and resource solutions to solve complex technology and business challenges. Through relationships with our consultants and clients, Genuent is an element of change in the world of work. Founded in 2006 and headquartered in Houston, Texas, Genuent services clients nationally across the entire technology spectrum. www.genuent.com