Building A Strong Relationship with Your Information Tech Recruiter
Career Advice, IT Recruiting, Job Seeker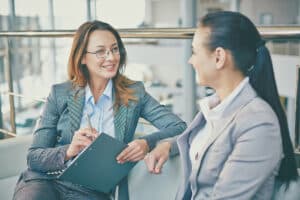 Krista Joy | Lead Resource Development Manager – California
When searching for a new job, the relationship you have with your tech recruiter is one of the most important pieces of the puzzle when it comes to job searching. If you're in the hunt for a technology job, an information tech recruiter is an extremely valuable asset, as they dramatically enhance your career in many ways.
In this article, we explore the different factors of building strong relations with tech recruiters, the accompanying benefits, as well as how to enhance your relationship.
What a Tech Recruiter Brings to The Table
There are many things that a tech recruiter brings to the table when it comes to helping candidates get the information technology job of their desires. Whether you are wanting a new role in Houston, Atlanta, Rochester, Dallas, Austin, Los Angeles, Sacramento or other location, information tech recruiters are trained professionals who understand the ins and outs of the candidates they are working with to make sure they are giving them the best possible chance at landing a new, lucrative tech job.
For one, a tech recruiter has an immense amount of market knowledge when it comes to the IT world. They are able to ask you questions relating to past IT positions that you held and help give advice to succeed in upcoming interviews. Another important factor is that a tech recruiter gives advice on the structure of resumes in order to match you well with the position you are trying to go for and make sure your resume reflects well against that job.
The Importance of a Strong Tech Recruiter Relationship
A recruiter opens many IT career doors for you, so why wouldn't you want to build a strong relationship with one? An IT recruiter knows the inside scoop on the job, company, interviewers, and non-salary benefits of working there. They also help you while you are on the job and offer feedback if you happen to have any questions about the position.
Overall, it is a relationship that allows you to feel comfortable chatting with the recruiter at any given point whether they are helping personally answer questions about other jobs or even your search in general. I myself have an open-door policy where even if I do not have a job available right now for a particular candidate, I help and give advice as to unique or different ways to plan your search attack.
Enhancing Your Tech Recruiter Relationship
It may seem like it, but it's not all on the information tech recruiter when it comes to building strong relationships that help you get the job of your dreams. Work needs to come you as well. Keeping communication open, asking smart questions, and asking for guidance when needed are only a few of the things candidates should do.
Other ways to enhance the recruiter relationship:
Stay in touch: Sending communication by calling or writing emails with questions at least once a week, lets the recruiter know you're still eager to find a new tech position.

Be honest about expectations: You should be honest about what you are looking for in a new position including salary, location of the job, and what types of applications you are familiar with using.

Ask smart questions: Never feel like asking questions is a nuisance. These questions only benefit you in the long run. Understanding exactly what the job entails and what they are offering helps you understand if that position is right for you.
Every relationship is a two-way street, and this is no different between job seekers and IT recruiters. Recruiters provide tips to improve your chances and direct your efforts to the most promising tech job opportunities, including those that help boost your resume and career. Start building a stronger relationship with your IT recruiter today!
About Genuent
Genuent is the technology staffing firm focused on delivering masterful technologists and resource solutions to solve complex technology and business challenges. Through relationships with our consultants and clients, Genuent is an element of change in the world of work. Founded in 2006 and headquartered in Houston, Texas, Genuent services clients nationally across the entire technology spectrum. www.genuent.com