Creative Ways to Boost Tech Employee Morale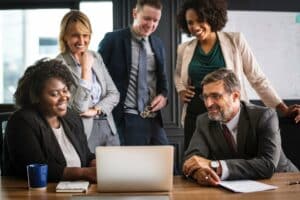 Tera Miller | Lead Resource Development Manager – Houston, TX
When it comes to boosting tech employee morale – there are a lot of factors that come into play. You can't give an employee positive morale like a present. But, as an employer you do control large components of the company's environment in which employees work each day.
Being aware of your employees needs in both a professional and personal sense leads to the boosting of tech employee morale. Understanding why it happens, and what actions to take is the next step.
The Why
The main drivers of low tech employee morale are usually based on a few factors.
Negativity within the company environment

Leadership not being supportive to the tech employee

Stress level of work

Management style (For example: Micro-management)
Companies do not realize the stress an employee is going through – which causes instability throughout the organization. This needs to be addressed in order for your company, your employees, and you to succeed.
What to Do
It's up to your company and you to help your employees succeed – 100%. Positive words like "Thank you" and words of affirmations go a lot farther than you think. Feeling acknowledged is huge in boosting tech employee morale. Different types of praise such as "Well done", "Thank you for staying late" and other terms of that nature, show that you truly acknowledge the hard work being put in by your tech employees.
Another important aspect is asking your employees to contribute versus telling them what to do – even if that specific idea is not chosen; it makes them feel as though they are contributing and part of the team.
Activities are another massive way to boost tech employee morale:
Employee "Nap" Rooms

Outside Work Events

Catered Lunches

Daycare Services
No one wants to sit at their desk for 9 hours straight with no break. Making sure your employees' morale is on the up and up should be a main concern – which is why so many companies are starting to do such things such as the activities listed above.
When creating activities, it's important to understand the members of your team so you are able to offer things to your employees that everyone can take part in. Here at Genuent, we have "Late Nights" where we work until 7pm and we are offered food and beverages. This definitely boosts our morale to work hard through those later nights.
Overall, boosting tech employee morale seems difficult but it's not; it just takes desire, time, and commitment of the organization. Implementing a few words of positive affirmations, acknowledging hard work, and bringing your employees together for fun activities are great ways to boost tech employee morale.
About Genuent
Genuent is the technology staffing firm focused on delivering masterful technologists and resource solutions to solve complex technology and business challenges. Through relationships with our consultants and clients, Genuent is an element of change in the world of work. Founded in 2006 and headquartered in Houston, Texas, Genuent services clients nationally across the entire technology spectrum. www.genuent.com