Tips for Your First Day as a Technical Analyst
Career Advice, Job Seeker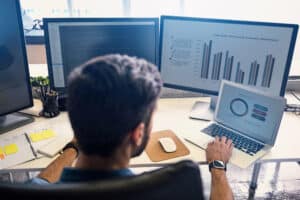 Nate Ackerman | Resource Development Manager – Houston, TX
So, the big first day of your technical analyst job is coming up. The job hunt was a success! But the question is, are you prepared? Have you done all the necessary tasks needed beforehand? The first day as a Technical Analyst is not much different than other positions. It's all about being prepared and knowing how to communicate with your new colleagues.
Though that first day at your new job may be stressful, it's important to focus that nervous energy into something positive and start things off on the right foot. These tips help point you in the right direction for a successful first day as a technical analyst.
Preparation
The key to an extremely successful first day is all about preparing, preparing, preparing. I cannot stress enough the importance of this first topic. Here at Genuent, we make sure that every candidate is prepared in every way.
One major preparation skill I tell every candidate is to drive the route to the location of the company the day before you start – even finding the parking spot that you are going to park in. I say this because many time candidates either drove from their previous job, or haven't even been to the location yet, due to being hired from a phone interview.
Other things I tell my candidates to do in order to be fully prepared include:
Arriving 15 minutes early by knowing your route and how long it takes – even in traffic

Make sure to know the company dress code inside and out

Bring your own lunch. But if asked to grab lunch with colleagues – Say yes!

Research your new coworkers on LinkedIn and their backgrounds

Know your reporting structure which will allow easy communication, assigning of tasks and approves your hours

Have completed your on-boarding paperwork and if not completed, be sure to have all your proper documentation and identification as well as a blank check for your direct deposit

Have an understanding of your first assignment
If you follow the tips provided above – there is no way you won't be prepared for your first day of your new Technical Analyst job.
How to Communicate
Communicating appropriately on your first day of your technical analyst job sets up how your new colleagues view you. Not sure if you should speak up during your first meeting? Is it best to be aggressive in your tactics or sit back quietly and obverse?
On your first day it's extremely important to make yourself known while at the same time listening and observing to see how things are ran. Be prepared to give a 30-second introduction of who you are and where you were before, as many new colleagues will likely ask you about this. During meetings, if something is said and you didn't quite catch it – it's certainly okay to ask questions. No one is going to judge you for asking questions. That shows you are interested in what is being said and shows initiative.
Overall, if you are well prepared, and understand the importance of communication within your new business environment and your new colleagues, you'll have a great first day at your Technical Analyst job. Good luck!
About Genuent
Genuent is the technology staffing firm focused on delivering masterful technologists and resource solutions to solve complex technology and business challenges. Through relationships with our consultants and clients, Genuent is an element of change in the world of work. Founded in 2006 and headquartered in Houston, Texas, Genuent services clients nationally across the entire technology spectrum. www.genuent.com