Genuent Hosts Information Security Panel: Information Security In The Information Age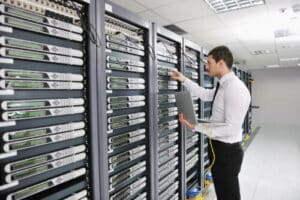 HOUSTON, TX – May 10, 2018 – Genuent, one of the nation's leading Information Technology (IT) talent solutions firms hosted the Information Security in the Information Age panel event last week.
The event featured panelists:
Martin Littmann, Chief Technology & Information Security Officer, Kelsey-Seybold Clinic

Chris Lanier, Sr. Director, IT Security, Stage Stores

Gabriel Montague, IT Security Manager Retail, Information Security and Compliance, NRG

Pierluigi Stella, Chief Technology Officer, Network Box

Moderated by Brian Wagner, Managing Director, Security Practice
The panel covered topics from industry maturity within security, security funding and what makes a good security program as well as security user education. The Information Security panel event officially launched Genuent's Information Security Practice capitalizing on 10+ years working with information and cyber security professionals.
"This was an amazing event and the panelists represented the industry well," said Genuent President and CEO, Kip Wright. "We are facing a time when information security, cyber threats and data protection are amongst the most important areas of technology. Almost every organization has to take information security seriously."
Panelists debated the varying levels of maturity across different industries and the quest for all industries to be at a similar level in respect to information security. While financial services is one of the leading industries for information and cyber security, most industries have recognized the need to increase their efforts to protect company and personal data. As the panelists delved into security funding, the program shifted to the making of a great security program. The need for advanced metrics and analytics as well as the involvement of leadership were among the many relevant points. The panel discussed information security user education and stated that too often the user is made to be the enemy when in fact the user needs to be educated and informed.
This panel brought together a great audience that asked insightful questions of the panelist. The video from the panel discussion will be released soon, if you would like to view.
About Genuent
Genuent is the technology staffing firm focused on delivering masterful technologists and resource solutions to solve complex technology and business challenges. Through relationships with our consultants and clients, Genuent is an element of change in the world of work. Founded in 2006 and headquartered in Houston, Texas, Genuent services clients nationally across the entire technology spectrum. Genuent is a division of the Willis Group. For more information, please contact Genuent at 713.547.4444, or visit www.genuent.com