The Biggest Thing Holding Back Your Tech Career
Career Advice, Job Seeker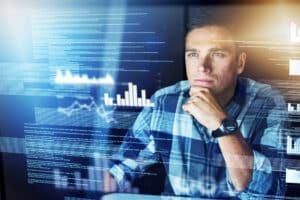 Jeff Frey | Technology Solutions Director – Houston, TX
It's easy to focus on the daily grind. But, when it comes to really succeeding in your tech career, it's important to expand your view and take an overall look at yourself and your actions to ensure nothing is holding you back from your true potential.
This article explores some causes of failing tech careers, actions to take, and success factors to consider.
The Causes
Candidates do not realize, in many cases, they are the ones holding their tech career back. Did you raise your hand to take on a new assignment? Do you regularly look to expand your tech knowledge? Do you play around with emerging technologies? Are you sitting back and waiting for opportunities, or making them happen? Just being aware of the fact that you are in control of your career and need to proactively take the appropriate steps to advance is half the battle.
Other causes come down to simple things like not putting in the work required, not recognizing opportunities to advance when one arises, and not knowing what to do with an opportunity when it is handed to them. When you are presented with an opportunity, it's critical to be able to take that and use it to your advantage. You have to put the work in to create your own opportunities, this could even include networking and reaching out to mentors to understand the possibilities you can truly achieve.
What to Do
In the world of technology, it's always important to know-and-show: "know" your corner of the tech world really well, and make sure you "show" that to others. Especially when looking to advance where you are, you need to own various technologies being used in your current position, and show your company your knowledge and expertise. When looking for a new position, you can do this through speaking at events or doing external work and posting that online. If it helps, think of it as knowing your role and showing that you bring value.
Knowing and showing the basics are one thing, but you also have to keep up with the latest trends. A technology candidate must make a habit of learning. Constant learning is extremely important. You cannot have a career in tech if you do not keep up with it. Doing so might include checking out technology blogs daily, attending events and meetup groups, seeking out where you can learn about new technology as well as networking around your core tech.
Another important aspect is keeping up with change and not fearing it. From Blockchain, AR/VR, to 3D Printing – being able to dabble in these areas and understand the basics of them proves to be beneficial in advancing your tech career. If you are not able to touch some of these technologies at work – picking up some freelance work may be the way to go. And though individual jobs are important, the entire technology career of an individual is more important. A project job may be a little different than what you are doing right now – but overall for your career, that's a good thing, and it will help you progress.
Bottom line, it's extremely important to embrace the changes that occur within technology and have, what I like to call, a technological curiosity.
Defining Success
How you define success really determines what you will get out of your tech career and help identify what is "holding you back." Define what success looks like to you, whether it is money, career growth, work life balance, finding the final seat – it is all individualized. From an external perspective, success may look like advancing to higher positions, promotions, achieving certain bonuses and other things of that nature. But, I would say, as long as you are advancing your career to the best of your ability – that is where true success lies. Recognizing that you are taking control of your career and developing habits to keep up with the trends will drive the results you desire.
So, what's holding you back? And what actions are you taking to get your career moving? Because success doesn't have to be a destination, you can be a success now by being on the road to your goals. Not everyone is measured by if they make it to CIO, so if you are taking steps today and headed to where you want to be, then there should be nothing holding your tech career back!
About Genuent
The team at Genuent makes up the top technology recruiters in Texas and across the nation. We're experts at delivering talent and resource solutions within the IT space. Visit our job listings today to find available positions in your area.