How a Technology Recruiter Will Advance Your Career
Career Advice, IT Recruiting, Job Seeker, Tech Career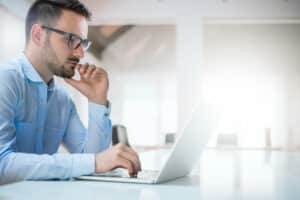 Irina Liukimson | Resource Development Manager – Houston, TX
If you are searching for a job in IT – it may be time to work with a technology recruiter. The ability to form ongoing relationships with influential technology recruiters can prove more critical to your career success than any other networking outlet.
Are you wondering how a technology recruiter can advance your career? In this article, I wanted to share the value a technology recruiter brings to a candidate as well as the benefits of using one.
The Value
There is a lot of value in using a technology recruiter in your job search. An experienced recruiter helps guide the search by educating you on market trends and conditions. This may include client knowledge and/or marketable skills knowledge.
An IT recruiter helps structure the search by helping understand and represent you in the best light; while matching you with the best client opportunities in the market.
Benefits
Working with a technology recruiter brings about many benefits. Recruiters have an inside look at the job market – which is why they are able to present you with job positions that are truly a match. They know their clients well, so when they meet the perfect candidate, they are able to provide the best possible opportunity.
A recruiter will spend time to make sure you are being presented in the best light. They will go to work within their client networks to get the right opportunity that will ensure you have the chance to contribute and grow within their new role.
Keeping In Touch
A candidate should always feel comfortable reaching out to their recruiter. Depending on the stage in the process, there are several things to address such as having the right information on the job and client they are being presented for. As well as expectations on process, timelines for feedback, interviews, hiring, etc.
Overall, using a technology recruiter could mean the difference between landing a new position and still being on the search. Genuent recruiters are knowledgeable about technology and their local markets. They are able to help guide candidates from resume presentation to interview tips. And, of course having the market reach with some of the top clients, Genuent recruiters can position candidate in front of the top clients for the best opportunities.
About Genuent
Genuent is the technology staffing firm focused on delivering masterful technologists and resource solutions to solve complex technology and business challenges. Through relationships with our consultants and clients, Genuent is an element of change in the world of work. Founded in 2006 and headquartered in Houston, Texas, Genuent services clients nationally across the entire technology spectrum. www.genuent.com