How Do You Retain the Best IT Talent?
Employee Insights, IT Recruiting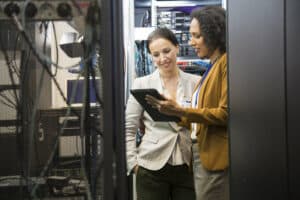 Matt Eckert | Executive Vice President of Business Development – Houston, TX
Employee turnover has a negative impact on any organization's bottom line. From the cost of recruiting and hiring for tech jobs, to training and overtime required to fill the position, it without doubt pays to have a strategic plan in place to help combat employee turnover. The best way to do this is by hiring employees that are a great fit and by setting up clear and measurable goals for employee retention.
To set goals for your organization, it is useful to understand what employees in information technology jobs value when evaluating a company.
Compensation & Benefits
Many organizations overlook this very important piece of the puzzle. Your employees want to be able to not only support their family but also earn what they believe they are worth. On a similar note, job titles can come into play as employees want to have titles that match their perceived worth. Understanding that "compensation" doesn't only consist of money is a major learning curve for many leaders. It also includes cost. Your information technology talent will evaluate their cost to go to work every day. This could include dry cleaning if your organization has a business professional dress code or the amount of gas they use driving to the office daily. Your compensation package needs to be on target and up-to-date.
The benefits package also plays an important role in attracting the best IT candidates. By offering creative benefits packages, you can entice your employees to continue with your firm. A few recent examples I have noticed in the Houston IT industry are: unlimited paid time off, matching 120% of 401K or covering all healthcare costs.
Culture Fit for IT Talent
Beyond compensation & benefits, one of your goals for retention should be creating a winning company culture. According to a Columbia University study, the likelihood of job turnover at an organization with rich company culture is only 13.9 percent, however, the probability of turnover in organizations with poor company culture is 48.4 percent. Below are a few important things to consider when creating a desirable culture for IT talent.
Establish faith and connection between leadership and employees. It is easier for employees to be onboard if they understand the leadership team and their goals. Even if employees do not agree with every decision, they will respect and understand that leadership is there to run the business.

Always lead by example. It is important to ensure that you portray what you preach.

Take time to celebrate the wins! By celebrating your team's successes, no matter the size, you can create a winning culture.

Never forget to learn from your mistakes. If you hire the wrong person, evaluate why and set clear goals that keep you from making a similar hire in the future.

Realize that you can't want it more. As a leader, you can't force someone to be great. Sometimes it is okay to move people if they are in the wrong seat. At the end of the day, a poor fit can be harmful to your culture.
How do you determine where your information technology staff finds the company culture lacking? Ask this simple question, "Name one thing we could do to make this a better place to work." But if you do ask the question, your challenge as an employer is ensuring that you can execute on at least 10 percent of the answers you receive.
Determining If You Are Meeting Your Goals
My best advice is inspect what you expect. This is where culture comes into play again. If you have a direct relationship with your IT talent, they will share their frustrations with you. Also, when you are successful and your employees are happier, you reduce the likelihood that you will be surprised with unexpected turnover.
About Genuent
Genuent is the technology staffing firm focused on delivering masterful technologists and resource solutions to solve complex technology and business challenges. Through relationships with our consultants and clients, Genuent is an element of change in the world of work. Founded in 2006 and headquartered in Houston, Texas, Genuent services clients nationally across the entire technology spectrum. www.genuent.com