How to Create a Positive IT Candidate Experience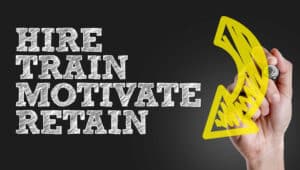 Terence Sanchez | Lead Resource Development Manager – Los Angeles, CA
After all the hard work of finding the perfect IT candidate, you want to make sure the interview process goes smoothly. Finding qualified IT candidates has been harder than ever, so creating a positive candidate experience that attracts qualified talent to your organization and keeps them on good terms is becoming essential in today's talent market.
Investing in a positive IT candidate experience yields results both short-term with the amount of applicants coming in, as well as long-term when it comes to the organizations bottom-line. In this article, we explain the importance of creating a positive candidate experience as well as what to do in order to achieve that experience.
Why It's Important
From the company's bottom line to receiving more IT candidates – there are countless reasons why a company invests in creating a positive environment for IT candidates. Let's use an example of project management candidates. So, you are seeking project management candidates and they are going to seek out and apply to organizations that provide a great hiring experience.
Employee engagement as well as retaining top talent are major factors when it comes to why creating a positive IT candidate experience is so important. Project Management candidates want to work for a company that they are proud of and one that brings about a positive environment.
Money is another major factor – Not every organization has unlimited resources for their recruiting efforts. Companies want to find the most qualified IT candidates using minimal resources, so creating a positive experience is a must for cutting costs since top IT talent is in short supply. Keep in mind, that it has never been easier for candidates to share their experiences with other candidates.
Glassdoor is the most obvious place to see this, but Indeed and other job boards are now asking for reviews from the candidate. Reputation management is hard enough without making it harder by having candidates tell the whole world that you are tough to work with or an environment that is not built on their success.
What to Do
Creating a positive brand experience is one of the first things to do when it comes to creating a positive IT candidate experience. Companies that are the most sought after are the ones that are able to portray to the candidates a solid brand that those IT candidates would be excited and proud to work for.
Another factor is making sure the interview process is thoroughly planned out and not confusing for the candidate. This means before, during, and after the interview. If your recruitment process is solid, candidates have more confidence in your capabilities as an actual employer.
Other important factors to remember:
External points need to be consistent with overall brand: Social media and your website is the first point of contact for many candidates. It is vital to have the brand you want to portray across all external avenues as well as internal.

Open communication: Consistent, positive reinforcement of the brand and creating that positive environment

The Interview process is a two-way street: Providing valuable feedback to the candidate is essential so they are able to advance their own careers (even if they did not get the position).
Creating a positive IT candidate experience affects the overall culture of your company as well as the bottom-line. By following the simple rules outlined above, you'll be creating a positive IT candidate experience as well as retaining top talent in no time. In our example, your Project Management candidates will flock to you. The Genuent team works with every client to ensure that they have the knowledge and ability to create these positive experiences and get the best candidates for their positions.
About Genuent
Genuent is the technology staffing firm focused on delivering masterful technologists and resource solutions to solve complex technology and business challenges. Through relationships with our consultants and clients, Genuent is an element of change in the world of work. Founded in 2006 and headquartered in Houston, Texas, Genuent services clients nationally across the entire technology spectrum. www.genuent.com