Providing Valuable Tech Employee Feedback to Help Them Improve
Career Advice, Employee Insights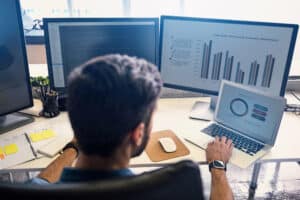 Kelsey Johnson | Resource Development Manager – Houston, TX
Feedback is valuable for all technology employees on an ongoing basis. Feedback is neither good or bad. We need to be sure as managers to share the positive as well as the negative. Providing valuable tech employee feedback is an important aspect of everyone's career. Giving feedback is a delicate balance and we have to be willing to address it. Positive feedback is just as difficult to share as negative. It seems awkward to many managers to share positive reinforcement for a job well done and as such they leave it to quick mentions of way to go. Negative tech employee feedback is tough. There is value in helping to identify issues quickly and solving them before something bigger arises, but we need to watch how we position the feedback.
Importance
An individual's long-term growth and development is tied to you providing tech employee feedback. It also has a positive impact on a business because it is a key to higher employee engagement. Employees that are aware of where they are succeeding and where they need to improve report a more satisfying work environment. The feedback should highlight on the employee's strengths to drive their motivation.
It's important to ensure the feedback you provide is in a positive manner that comes with a solution on how to achieve the goals that are being set for them.
Tone
Tone is always important in our communication. Tone and body language are two factors that determine if the conversation is a positive and uplifting one that focuses on employee strengths or not. Providing constructive feedback in a negative tone leaves the employee feeling discouraged and fearful for their job – which is never good. Even negative feedback presented well goes along way. We all know how important constructive feedback is and crucial in helping the employee do the best job that they can do in their technology position.
Time-frames
Don't wait for the annual review. Feedback is an ongoing and regular occurrence. Managers that regularly meet with their tech employees and provide both positive and negative feedback find it easier to continue and allows employees to not feel bad about receiving it. Waiting for the year-end review for feedback leaves tech employees feeling surprised and attacked.
Providing valuable tech employee feedback helps an employee become more effective in their role and helps them have a clearer direction on how to achieve what is being asked of them. It helps the employee be more effective and efficient in their IT position and helps the employee reach their goals, while also contributing to the Company's overall goals.
About Genuent
Genuent is the technology staffing firm focused on delivering masterful technologists and resource solutions to solve complex technology and business challenges. Through relationships with our consultants and clients, Genuent is an element of change in the world of work. Founded in 2006 and headquartered in Houston, Texas, Genuent services clients nationally across the entire technology spectrum. www.genuent.net