Recommendations for Effectively Utilizing Your IT Staffing Agency
Employee Insights, IT Recruiting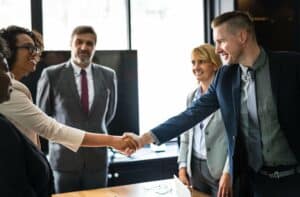 Jennifer Danbury | Executive Sales Director – Atlanta, GA
To keep organizations running smoothly, hiring managers aim to quickly fill any open position they have available. Regrettably, for many organizations the hiring process is long and filling a position quickly is impossible. To aid in the process inefficiencies, organizations turn to IT staffing agencies to help streamline their hiring process and dramatically shorten their time-to-hire. Whether a hiring manager has a quick deadline or needs to replace a bad hire, an IT staffing agency is a great resource. To maximize the effectiveness of this resource, here are recommendations on ways organizations and their hiring managers work better with their IT staffing agency.
Communication and Feedback is Vital
Open communication with your IT staffing agency directly correlates to a successful relationship. The most important thing to stress is that no news is still news. As a hiring manger, if you didn't have a chance to review the resumes the agency sent over, still communicate it to your team. Communicating the fact that you've been swamped and need extra time is better than going dark as your agency continues working on your behalf.
It may seem unimportant, but tell your IT staffing agency if you plan on going on vacation or are out of the office for an extended period of time. If you have an approaching deadline, this information helps the team determine their timeline and start important conversations such as your willingness to wait for the right candidate.
Likewise, feedback from your organization throughout the hiring process is also critical. Surprisingly, rejection feedback provides recruiters with more insight than positive feedback. Rejection tells the recruiters why the candidate wasn't a good fit and what to avoid moving forward.
Open communication with the agency only helps you in your search. You even find out additional ways the agency can help you. For example, if the search is not public knowledge, the agency conducts private interviews.
What Your IT Staffing Agency Needs from You
To fill your open job in technology, there are few things the IT staffing agency's recruiters need to know about your organization and your open position. To make the process as efficient as possible, the hiring manager needs to consider the following points before the recruiters begin searching for candidates.
First, create a detailed job description for the position you are looking to fill. Also, share the LinkedIn profile of the person who previously held the position to give a clearer picture of your ideal candidate.

Clearly define the requirements needed for the position. Providing the requirements at the beginning of the search will save time and cut down on irrelevant searches.

Determine what type of relationship the organization is looking to establish with the new hire. Would the candidate be a permanent hire or contract employee?

Decide how involved your organization would like the agency to be in the hiring process once candidates are selected for interviews.
Conversations to Have with Your IT Staffing Agency
Once you have established the preliminary information your agency needs to get rolling, there are additional in-depth conversations needed between your organization and your IT staffing agency to allow for a successful hiring process.
First, having a conversation with your team and the agency about the fee structure is a critical step in the process. During this conversation, we recommend leaning on your agency to guide you in the right direction. The recruiting team provides you with advice on how the market is fairing. By narrowing down on your ideal pay rate or salary for the position, the recruiters help you pinpoint the level of experience to expect from your potential candidates.
Second, determine your "why". Your IT staffing agency is there to help you solve a problem so it is important to work with your team to define what the problem is and why you have your current need. For example, is your end goal to consolidate the organization's data center and do you need a project manager to do so? Through the natural dialogue, the agency is able to get a better idea of the personality and skill set you need for the position. Along similar lines, don't be afraid to say what you are not looking for in a candidate. Determining why the previous employee wasn't successful in the open role allows recruiters to know what red flags they should be looking for in a candidate, helping you to avoid making the same mistake again. For example, hiring someone from a large organization and asking them to work in a small, close-knit environment is a culture shock for the candidate. Knowing that a major culture change is the reason the last employee wasn't a success is helpful to keep in mind when screening potential candidates.
The "why" conversation also allows the recruiter to gather insight on your company culture. Simply answering the question, "Tell me about your team" gives the recruiter the information necessary for finding a candidate that is a culture fit. We also recommend that your recruiters visit your office. During an onsite visit, a recruiter easily gets a feel for the organization's culture once they step into the environment.
In the end, remember that your IT staffing agency's goal is to efficiently fill your open IT job with the best talent available. Utilize the agency's industry knowledge and resources to help take pressure off hiring managers and keep your organization on track.
About Genuent
Genuent is the technology staffing firm focused on delivering masterful technologists and resource solutions to solve complex technology and business challenges. Through relationships with our consultants and clients, Genuent is an element of change in the world of work. Founded in 2006 and headquartered in Houston, Texas, Genuent services clients nationally across the entire technology spectrum. www.genuent.com