Retaining Top Business Intelligence Talent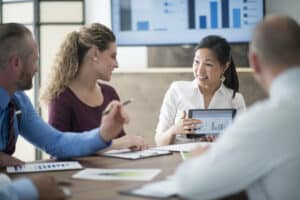 Michael Allen | Director, Performance Optimization/Analytics | Kansas City, KS
Finding top talent in today's market is not always easy. That's why when you finally find that top business intelligence talent, you want to make sure they stay at your company. Although important, benefits are not the only thing that candidates think of when it comes to them keeping and finding business intelligence jobs. There are other important factors such as feeling recognized and valued within the organization.
Retaining talent is a main concern for many companies. Not only are there financial repercussions, a high turnover rate can decrease performance and morale. Here are some insights into why it's important as well as how to retain top business intelligence talent.
Why It's Important
To start, your employees have knowledge of your business and knowledge of your policies – when you lose that employee, you are losing that knowledge and value that they brought to your company. Then you must find someone new and retrain them and teach them the ins and outs of the company. When you are not taking care of them – that's when they feel the need to leave.
Another reason as to why it's so important is because the talent market is quite low right now. Point blank – It's tough to find top business intelligence talent as there is a low supply of candidates. Maintaining that talent is key – it's very challenging to find someone in a short time frame who is the same caliber as the person who just left. Failing to retain a key employee is costly to the bottom line and creates organizational issues such as insecure coworkers. So, what are some things we can do to help retain that talent?
Employee Recognition is Key
Yes, "Free Lunch Fridays" are great, but at the end of the day, it comes down to employee recognition and that employee feeling as though they mean something to the company.
The saying "people don't quit their jobs, they quit their managers" is extremely accurate. A manager actively staying engaged with their employee and giving them opportunities to grow and being responsive to the employee is the sign of a great manager. There is nothing worse than sending your manager a question and never hearing back and having to follow up yourself. Another factor is giving feedback right away if something is done wrong. Having that open communication with the employee is critical and makes the employee feel more at home.
An employee doesn't leave a job because there are no more free lunch Fridays, they leave because they don't feel valued within the company and don't feel recognized for their talents. It really comes down to the managerial relationship with the direct supervisor. No one wants to be micromanaged or have someone standing over their shoulder. Yes, it is important to make sure employees are doing the right thing – but proceeding in a way that doesn't make the employee feel like they are a doing something wrong. Employee recognition is the key. Employees want to feel as though they are included and that their efforts are making an impact within the organization.
Given the challenges of attracting new employees, companies need to do everything they can to retain their top employees. Overall retaining top business intelligence talent is critical to the long-term success of your company. Employees look for business intelligence jobs that are going to cause them to advance.
About Genuent
The team at Genuent makes up the top technology recruiters in Texas and across the nation. We're experts at delivering talent and resource solutions within the IT space. Contact us today to find qualified talent in your area.