How to Stand Out at an In-Person Business Intelligence Interview
Career Advice, Interview Preparation, Job Seeker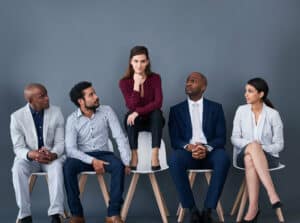 Jemal Wilson | Training Manager – Houston, TX
Congratulations! You made it to the next round; an in-person business intelligence interview. This is a big step in landing your next IT role and it's extremely important to impress the hiring manager.
This article focuses on preparing for the business intelligence interview, the interview itself, as well as how to handle communication with the hiring manager after the interview.
Preparation is Key
When preparing for the interview, you want to have a thorough understanding of the role. Be sure comb through the job description as well as create questions about items that you believe are not listed, but likely part of the position.
Research the company and the people you are interviewing with on LinkedIn, Google searches and the company website. Look for things that you have in common and things that inspire questions from you.
Another important aspect is to prepare your "pitch." Too often, candidates attempt to do this off the cuff. You need to have thought about what you want them to hear when they ask the question, "Tell me about you?" Make sure you know every single thing on your resume and what you want to talk to and what answers you may need to have. I know it is your background, but you would be surprised how many people can't talk fully to their experience.
The Interview
During the interview, the questions asked are aimed towards finding a knowledgeable candidate. But that's not all, a great candidate is also able to collaborate effectively, solve complex problems or go the extra mile, all of which are vital to a company. You'll be asked questions that help the hiring manager understand the value of your hard skills as well as your soft skills.
Hard Skills: Interviewers want to make sure you have the foundation of IT skills needed to be in business intelligence. Hiring managers test hard skills during an interview by building a practical test for a candidates' capabilities. This might include questioning you on what steps you take to create a given data visualization using Tableau or Power BI.
Soft Skills: Just because you have the knowledge to do the job does not mean that you automatically get a job offer. Soft skills show the "human" side of a candidate and conveys how well you work with others. Some examples of soft skills include creative thinking, work ethic, teamwork, decision making, positivity, and time management. Being able to fit within the company culture is an important aspect that many companies evaluate during an in-person business intelligence interview, which is why soft skills are so important.
Ask Questions
Interviewers want to know that you have thought through the position and coming to work at their company. They also want to get a feel for you. Asking questions shows your interest, your intelligence, your personality and more. What does the average day look like for the position? Why did they join the company? What is one thing they would do to make the company better? What is one thing that you could do to make the company better? There are so many ways to show that you are prepared and want the job. Show them. Ask them.
After the Interview
It is always important to remember the names of the employees you met with, whether it was during the actual interview, during a walk-through of the location, or before the interview via email. Using this knowledge, write a follow up email to the hiring manager mentioning those names and thanking them for their time. Also, be sure to reiterate how much interest you have in the position. This email or message through LinkedIn goes a long way in the hiring manager's eyes.
An IT employer wants to gain a sense of how well you'd fit in with the corporate culture as well as your IT skills, and there is no better opportunity to observe this than during a business intelligence in-person interview.
About Genuent
Genuent is the technology staffing firm focused on delivering masterful technologists and resource solutions to solve complex technology and business challenges. Through relationships with our consultants and clients, Genuent is an element of change in the world of work. Founded in 2006 and headquartered in Houston, Texas, Genuent services clients nationally across the entire technology spectrum.