Successful Onboarding Drives Data Analyst Employee Efficiency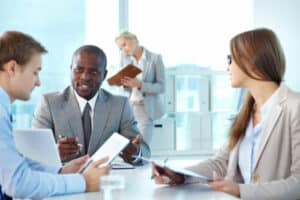 Jessica White | Manager, Human Resources Operations – Houston TX
When someone starts a new job, there are always different emotions involved. Spanning from excitement for what is to come and ranging to nervousness of the unknown, a new data analyst employee is eager to start making a difference within their new organization. But, before that is possible for any new hire to do, it is important for them to understand what it takes to succeed within that organization.
That's where an effective onboarding program comes into play. Although a simple term, it is much more involved than many may think. A successful onboarding program will not only educate and engage employees so they become productive members within the organization, it will prepare them for their future career and prove that the company hopes to be an active partner in that career.
Importance
The foremost reason why successful onboarding is so significant to the success of a company and its employees is because it is the consultant's experience with the company they are working for. These steps will set the pace for the relationship between employee and employer, so it is extremely important for this to be an easy and efficient process – so no confusion arises during this vital time. The ability to gain trust and achieve rapport between each other is a great way to start any relationship.
New employees make their way through the organization on their first few days and those early experiences get magnified. Taking the time to ensure that new data analyst employees have a smooth transition into an organization makes them feel valued and that they are a part of the team. No one likes to feel unwelcomed or that they are unsure of the expectations set for them – especially in a new position.
Strategies and Initiatives
There are many strategies that we use at Genuent to make sure consultants, as well as our internal employees, are happy at the organization.
For example: We make sure to send an initial "Welcome email" to the new consultants that includes important details such as, helpful contact information they need, and the link to the site that they'll be utilizing to complete their onboarding paperwork. This email is followed by a phone call in which the new team member is introduced to one of our onboarding specialists. We ensure that they have team member names that they are working with as well as how their manager prefers to communicate and what their manager expects from them over the coming weeks. We also set up training schedules with managers. I really believe that this personal touch builds relationships and ensures a highly positive experience for incoming employees.
Another important strategy that we have found to be a successful tool is to make calls to candidates in which we ask for feedback concerning their experience. This way we know how the tools and processes that we are using, are proving to be useful.
Some of the questions we ask:
Is the program working efficiently?

Does the program seem user friendly?

Is the program too slow?

What improvements or changes would you like to see?
Partnering with the candidates as well as listening to them makes them truly feel part of the Genuent family. Always respect and appreciate their ideas throughout the entire process, and this, in turn, causes the personal relationship to naturally grow.
When it comes to internal employees at Genuent, we love to personalize their first day. First impressions matter! So when they get to their desk their first impression is a batch of Genuent gifts.
These include:
Genuent Tumbler

Genuent Pen

Genuent Hand Sanitizer

Genuent Camera Cover (for laptop camera)

Genuent Stressball
Although it seems insignificant – the smallest gesture towards new data analyst employees makes the biggest impact.
Benefits
Positive onboarding is paramount when it comes to new employees feeling welcome and truly "at home". There are many benefits to a successful onboarding process. Most importantly, the new hire feels a sense of joy by knowing they are truly wanted and valued at the company. Once an employee receives their onboarding paperwork – pairing them up with a mentor or buddy is critical in achieving the benefits that successful onboarding creates. Some of these benefits include; building trust early on, creating an open line for communication, and forging connections between employees.
Overall, successful onboarding is crucial in terms of data analyst employee retention, happiness, and so much more. Creating an efficient, streamlined, and personal process that makes it easy for the new hire to understand their objectives is the main goal.
About Genuent
Genuent is the technology staffing firm focused on delivering masterful technologists and resource solutions to solve complex technology and business challenges. Through relationships with our consultants and clients, Genuent is an element of change in the world of work. Founded in 2006 and headquartered in Houston, Texas, Genuent services clients nationally across the entire technology spectrum. www.genuent.com