The Importance of Upskilling Data Scientist Employees
Employee Insights, IT Recruiting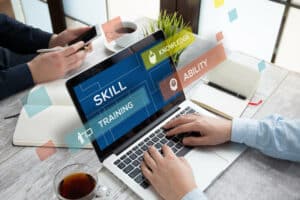 Julie Olson – Houston TX
Continued skills advancement at all levels has become crucial to the success of any business. Upskilling is not only professional training and development; it is also an employee retention tool and a boost to your bottom line. Companies must ensure that data scientist employees are receiving the right education through carefully crafted retraining programs in order to reap the benefits.
In this article, we talk about the importance of upskilling data scientist employees.
Importance
Data has become one of the most important factors of any business and industry. Being able to extract data from multiple sources and understand how to model and translate that data in different tools to drive insights is crucial. As technology advances, and as more advanced skills are required for IT positions, employees must continue to upskill to keep pace with the changing requirements of today's business.Upskilling has an abundance of advantages, from improving employee motivation to saving the company long-term money.
What Companies Can Do
There are several things companies can do when it comes to upskilling their current employees. Giving people opportunities to internally work on different projects is one way to begin the upskilling process. Working alongside other employees during workshops and training programs creates an innovative environment where employees can ask questions and learn new things. Another way companies can upskill their data scientist employees is by creating mentor program where senior level employees are matched with junior level employees based on their projects.
Put the time and investment into the employees at your company in order to reap the long-term reward of higher caliber data scientists, greater tenure amongst your employees and the value they bring to your business. The employee not only gains new experience and skills, but they feel as though the company is truly after their best interest.
At Genuent, we offer a hands-on training program called Talent Path. Within this program, we help IT employees gain valuable technology experience and knowledge during a 12-week period. Although this is helping external candidates gain new knowledge, it has brought about the idea of creating an internal version for not only us – but our clients as well.
Overall Benefits
When it comes to upskilling data scientist employees, the overall benefits outweigh the risks. These employees learn new skills within applications such as Tableau and Power BI, and because of this, feel as though they are becoming a larger asset to the company. This boosts morale, creates a happy work environment and helps employee retention.
Upskilling data scientist employees is becoming more prevalent throughout the workplace. If you start upskilling within your organization, you'll see a positive change in the mindset of your data scientist employees. By creating a culture of constant learning, you keep skills current, stay ahead of changes in your industry and continue to move onwards and upwards.
About Genuent
The team at Genuent makes up the top technology recruiters in Texas and across the nation. We're experts at delivering talent and resource solutions within the IT space. Contact us today to find qualified talent in your area.