The Most In-Demand Tech Jobs
Career Advice, Job Seeker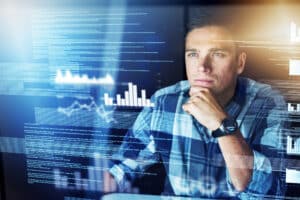 Michael Allen | Director of Performance Optimization and Analytics – Houston, TX
According to Forrester, the U.S. based research and advisory firm, the United States and an additional six countries will have tech market growth above 4 percent in 2017-2018. The growth of the tech industry and demand for highly skilled talent is opening an array of opportunities for candidates in the technology space. As a candidate, if you are looking to break into the market or expand your skill set, it's useful to understand what tech jobs are in high demand and what skills organizations are searching for in today's marketplace.
As Director of Performance Optimization and Analytics for Genuent, I keep tabs on information technology staffing trends not only within the Genuent organization, but throughout the entire industry. Below are four tech jobs and information technology skills that are in high demand in the IT industry.
Project Management
The demand for IT Project Management talent has skyrocketed. From Project Coordinators to Project Managers and above, the need is prevalent for these roles across all experience levels. IT Project Management positions are unique because they require a mixture of technical knowledge, but more recently, there's been a need for soft skills as well. With the growth of soft skills in tech jobs, project managers with emotional intelligence are valuable to an organization as hiring managers look for leaders to spearhead the organization's IT projects.
Business and Technical Analyst
The need for Business and Technical Analysts is also on the rise. Recently, the demand is pushing the need towards Technical Analysts over Business Analysts. Organizations are now looking for candidates who have the business acumen with the technical background and an understanding of programming languages to bring the best insight.
Infrastructure
Another popular tech job is IT infrastructure. While IT infrastructure encompasses a wide range of roles, a few that stand out in this space are System Administrators and Network Administrators. With the recent growth of IoT, the demand and the responsibilities of Network Administrator roles are expanding. According to IDC's Worldwide IT Industry 2016 Predictions, by 2018, there will be 22 billion Internet of Things devices installed, driving the development of over 200,000 new Internet of Things apps and services. This growth directly affects the influx of data for organizations and their networks.
Security also falls under the infrastructure realm and is huge in today's marketplace, especially for financial institutions. Any role that has to do with network systems and making an organization's IT infrastructure more secure is on the rise. According to the Bureau of Labor Statistics, the rate of growth for jobs in information security is projected at 28 percent from 2016–2026.The infrastructure space also includes tech jobs that revolve around Cloud computing and infrastructure. IDC's predictions report also mentions that by 2018, at least half of IT spending will be cloud-based, reaching 60 percent of all IT infrastructure and 60-70 percent of all software, services, and technology spending by 2020. Organizations need a broad range of Cloud focused tech jobs and candidates with Cloud and security experience are highly sought after as companies look to keep their Cloud networks secure.
Development Technologies
According to the U.S. Bureau of Labor Statistics, employment of software developers is projected to grow 24 percent from 2016-2026, much faster than the average across all other occupations. Similarly, the development technologies used by developers stays consistently in demand as Java and .NET continue to the remain dominant in this area.
The current demand for Java Developers is very high and the supply is not there to support it. More specifically, employers are looking for U.S. based Java Developers. As organizations strive to bring developers in house, they are struggling to find talent that is available to join their staff in a full time compacity..NET is the next most prominent skill in this space, including Full-Stack .NET Developers. For candidates, expertise across different layers and the ability to combine front and back-end development skills is extremely valuable.
Lastly, Development Operations (DevOps) Engineers fall under this umbrella. Security is also popular in the DevOps space. The impact DevOps has on IT and the ability to increase organizational performance has DevOps in great demand. With the rapid growth in the DevOps space, there are also increased security concerns, hence the growth in DevSecOps.
Finally, while not as trendy as the previously mentioned positions, it's important to note that there is continuously a huge volume of customer support positions in demand. These positions include roles such as Help Desk Analyst, Technical Support Engineer, Desktop Support, and Customer Service Representatives.
As the tech industry continues to grow and change rapidly, it is exciting to watch the changes in trends and I look forward to seeing what tech jobs will be on the rise in the new year.
About Genuent
Genuent is the technology staffing firm focused on delivering masterful technologists and resource solutions to solve complex technology and business challenges. Through relationships with our consultants and clients, Genuent is an element of change in the world of work. Founded in 2006 and headquartered in Houston, Texas, Genuent services clients nationally across the entire technology spectrum. www.genuent.com