The Top Soft Skills Needed for Your Technology Career
Career Advice, Job Seeker, Tech Career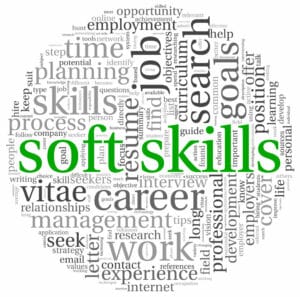 Danette Reader | Senior Resource Development Manager – Sacramento, CA
Lets' just say I have been recruiting a very long time (20+ years), and I still love it, just as much as my very first day! With all my applicants, I have had the pleasure to work with, I do try to make sure to give them the best advice possible. I want them to succeed professionally, from their job search, interview, but ultimately throughout their career. In the technology space, it is imperative for candidates to have great technical skills, it is even more important in today's job market to have even better soft skills. Throughout the years, I have learned that it is far easier to teach someone the technological piece versus the soft skills.
So, what exactly are soft skills?
Soft skills are defined as the personal attributes that allow someone to effectively interact and communicate with others.
Soft skills include, but are not limited to:
Good Communication

Teamwork

Adaptability

Problem Solving Skills

Creativity

Strong Work Ethic

Interpersonal Skills

Time Management
These are the ingredients/skills a person should possess and exemplify throughout their entire career.
Why do they matter?
Throughout my career, I have dealt with numerous applicants, giving them my most genuine advice (tips) to better prepare them for their careers. Unfortunately, not everyone is born with soft skills and we all have different approaches on how we handle situations. However, it is important to know that these skills can be learned, but it is up to the individual to find their own communication style. Whether it's an interview or your job, you need to be able to work both independently and as a team.
From entry-level to higher end roles, companies want people that can communicate at all levels. In today's world, your soft skills are as equally important as your technical skills. In the work environment it is essential to get along with your team, you need to be able to collaborate together and to achieve common goals. The last thing you want is no one wanting to partner or work with you. In the interview process, soft skills are sometimes ranked higher than your technical abilities. It can be a red flag if you are not able to communicate well on what you are trying to explain.
Recently, I submitted a Systems Administrator to my direct client. After review of his resume they had him take a 90-minute technology assessment. Which he scored well! This moved him on to a phone interview which was a personality interview. Fortunately, he was a good communicator with fantastic soft skills. He was the full package! With that said, had he lacked the necessary soft skills, his technical skills wouldn't have mattered, and he wouldn't have gotten the job.
Three best pieces of advice on soft skills:
Be engaging – I cannot stress enough how important it is for candidates to be engaging. Engagement through active speaking, active listening, and asking questions are all ways of showing others that you know how to communicate and to interact with others. In the interview process, when an applicant looks professional, has eye contact, along with a positive attitude, it's clear to the interviewer that this person knows how to formulate their thoughts and communicate effectively.

Be respectful – People need to respect others and be mindful of their surroundings. If you're not sure whether to say something, it best not to say it. You never know who will take something the wrong way and don't want to get yourself into trouble. What works at one company, doesn't work at another. It's up to you to take what you've learned and be able to adapt. You need to be able to emphasize what it means to be a team player and be flexible.

Remain true to yourself – It is important to still be yourself and show your true colors while communicating with others. No one wants to take that authenticity factor away from you, but just make sure that you are still aware of how to communicate your thoughts and personality with others effectively. I usually give a person the first ten seconds of an interview to "wow" me and it's great when you see that someone is truly being genuine with you and is excited about the conversation.
Nowadays, good soft skills are considered common courtesy – yet, people tend to forget that the word "common" means that it's a social norm. My advice to you is to work on perfecting your soft skills and letting them shine in the workplace. These are the skills that you need to acquire to succeed in all areas of life and especially throughout your technology career. Afterall, being the smartest person in the world doesn't matter if you don't have great soft skills and can't communicate well with others.
The team at Genuent makes up the top technology recruiters in Texas and across the nation. We're experts at delivering talent and resource solutions within the IT space. Visit our job listings today to find available positions in your area.