Important Tips for a Successful Business Analyst Video Interview
Interview Preparation, Job Seeker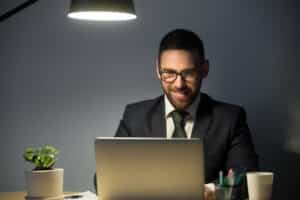 Annie Nguyen | Resource Development – Atlanta, GA
When it comes to any type of interview – it's a nerve-wracking experience for a lot of candidates. That's why making sure you're prepared and ready for anything is essential. What are the more popular interview trends right now? A business analyst video interview!
So, how exactly does one go about preparing for a successful business analyst video interview? In this article, I'll talk about why companies are using these types of interviews, how to prepare for business analyst video interviews, as well as what to do during the interview so you ace it!
Why Video
Companies are beginning to use video interviews for the many benefits it provides; such as increasing the value of the first meeting with a candidate, creating face time without travel time, and a way to streamline their hiring process and more. From your perspective, video interviews give you the opportunity to be more visual in your responses. Instead of being on a dry call where the interviewer cannot see the passion you bring to what you do, now your hand gestures, facial inflections and more can carry weight in how you present yourself.
The company is able to assess who the candidate they are interviewing truly is, because in the case of a phone interview – a company really can't assess who that person is until they meet with the candidate in-person. Video interviews provide the best of both worlds.
Preparation Is Key
Preparation is a major factor in making sure things run smoothly during the video interview. The number one thing I recommend is testing your internet connection as well as the webcam and audio. Whether the interview is going to take place on WebEx, Google Hangouts, or Skype, making sure your audio and webcam are working appropriately before the interview begins is vital. Nothing is worse than starting the interview and having the internet go out or having the audio not work at all so the interviewer cannot hear your answers.
Another huge factor is making sure you are in a quiet, secure location where no distractions are able to take place. Setting up in a coffee shop is not the best option. A better option is finding a quiet location either in your home or a quiet conference space where there is good lighting and you are able to test everything 15 – 30 minutes before the actual call.
During the Business Analyst Video Interview
You always want to dress to impress! Just because you are interviewing through video – that does not mean you are able to wear things that are deemed too casual. Wearing a nice blouse or button down so you look professional is extremely important in achieving a great first impression.
Another important thing to remember is to pause for a moment as the interviewer finishes asking the question. This makes sure you do not talk over them.
Other very important aspects to remember during the business analyst video interview include:-Posture: Sitting up straight – Don't slouch!-Smile!-Speak clearly and slowly-Don't fidget! Shows lack of confidence-Not taking the video interview seriously–Acting too casual during the interview.
Overall, being ready for anything that could potentially happen is essential in making sure your business analyst video interview goes well. Just follow the few tips outlined above and you'll be acing business analyst video interviews in no time!
About Genuent
Genuent is the technology staffing firm focused on delivering masterful technologists and resource solutions to solve complex technology and business challenges. Through relationships with our consultants and clients, Genuent is an element of change in the world of work. Founded in 2006 and headquartered in Houston, Texas, Genuent services clients nationally across the entire technology spectrum. www.genuent.com