Tips for Conducting Technology Reference Checks
Employee Insights, IT Recruiting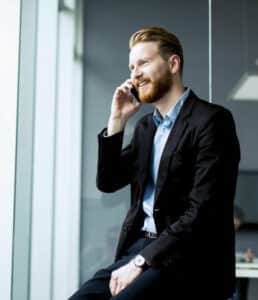 John Hurst | Managing Director of Southeast – Atlanta, GA
You've found the right candidate! After reviewing resumes, conducting interviews and skills assessments, and perhaps working with an I.T. staffing agency like Genuent, you have reached the finish line and are ready to make an offer…. or are you? Conducting reference checks on your ideal candidate is an essential component of the hiring process. This is the final checkpoint where you, as a hiring manager, ensure that you've done your due diligence and made every effort to facilitate an excellent match between the technology job description and the individual you want to hire.
Reference checks, while somewhat time-consuming, are necessary for several reasons. First, they are your opportunity to uncover any weaknesses in the candidate that the hiring process did not reveal. Second, they identify any technical skills or qualification gaps that were missed in the application. Third, making a bad hire is extremely expensive and something to be avoided. Taking the time and effort to contact references for your ideal I.T. candidate eliminates most, if not all of these risks.
During the interview process, ask the candidate if he/she has any letters of reference. This is a time saver for you, as it provides additional support to the verbal conversations you'll have in the reference checking phase of candidate consideration. Ask the candidate for a minimum of three references. Optimal references are at least one or two peers, one or two previous managers, and a personal reference (someone aligned with the candidate's volunteer or community activities, not a friend or relative).
When contacting these references, be sure to ask pointed questions about the candidate, such as:
What are his or her top three professional characteristics?

How would they perform in a deadline driven environment?

What kind of a manager are they?

How do they deal with pressure?

How do they handle constructive criticism?
Additional questions that relate to the type of company culture and work environment in which the candidate is placed are also quite valuable. Be certain that reference checks are conducted prior to an offer letter and avoid using a third-party reference checking company as they are often in the business of checking boxes on a list and rarely gain a comprehensive overview of your candidate's professional attributes. Conduct reference checks in a timely manner because you don't want to risk losing your candidate to another offer.
Finally, reach out to your own network to find people affiliated with the candidate or the I.T. companies for which the candidate previously worked. These types of "back door references" supplement the valuable insight you gain through conversations with references provided by the candidate.
About Genuent
Genuent is the technology staffing firm focused on delivering masterful technologists and resource solutions to solve complex technology and business challenges. Through relationships with our consultants and clients, Genuent is an element of change in the world of work. Founded in 2006 and headquartered in Houston, Texas, Genuent services clients nationally across the entire technology spectrum. www.genuent.com