Video Interview Tips That Every Software Developer Needs to Know
Career Advice, Interview Preparation, Job Seeker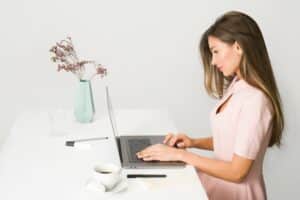 Terence Sanchez | Lead Resource Development Manager – Southern California
Amazingly, six in ten recruiters currently incorporate video into the interview process, according to a study done by PGi. As a Resource Development Manager for an information technology staffing firm, I've seen firsthand the extensive growth of video interview technology. In our fast-paced world of information technology staffing, it has become a valuable tool.
Perfecting video interview skills is a hard task for any candidate, especially for those applying for highly technical roles such as a software developer in Southern California. The good news is that most video interviews are used to help further qualify talent, meaning that candidates applying for software developer jobs have already completed a skills test and the hiring manager has an understanding of their background.
General Best Practices
There are several best practices that any candidate should keep in mind with a video interview. General interview preparation is the most important! Treat the video interview just like an in-person interview. You should dress appropriately, be on time, and do your company homework beforehand.
When setting up for the video interview, be conscious of your surroundings. Have a quiet space without any distractions, such as kids or pets. Take note of the background; having art or books behind you always works well. Try to conduct the interview in a normal space, such as your living room or office. Believe it or not, I've seen candidates conduct interviews from the bathroom, that's a big mistake!
The camera angle is another important piece most candidates don't think about. It is best to have the camera looking eye-to-eye or slightly above you. It is very important to never angle the camera below you so you are looking down on it. From a psychological standpoint, it is best for the interviewer to feel as though they have the authority.
Small talk is typically overlooked by candidates during interviews but is an important factor to the hiring manager. This is the interviewer's chance to see if you are a fit for their organization. By this stage of the process, the interviewer is putting a face to the resume to help them decide the most viable candidate. Are you someone they see themselves eating lunch with or joining the team at happy hour?
Here are a few other basic tips to keep in mind:
Ensure that your room is well lit. Directing the light to be on top or in front of you is best. If you have the light coming from behind you, it can be distracting to the interviewer.

Check your technology in advance. Having reliable Wi-Fi access and a working mic is essential.

Turn off all nonessential applications on your computer so there are no distractions or notifications during the interview.

Don't have your resume sitting in front of you, this will result in you looking downward and not at the interviewer.

Use hand gestures and other non-verbal cues as you would during an in-person interview. This will help to make an emotional connection with the interviewer.

Practice looking at yourself in the mirror and answering questions. This will keep you from getting distracted by having the ability to see yourself in the camera.

Most importantly, sit up straight and smile!
Tips for Software Developers
Participating in a video interview for a software developer job can be more challenging. Not only is this the time to show off your personality, but you also need to be prepared to answer the technical questions.
Your number one goal during the video interview is to emphasize your soft skills or personal attributes. Show the interviewer that you can communicate effectively.
Due to the nature of a software developer job, the interviewer will probably have a couple of technical skills questions for you. To handle this well during the interview, be prepared to show work samples that are relevant to the job you are applying for. Have links to your work ready to send or a portfolio you can share digitally.
Final Thoughts
The best video interview I've seen was from a candidate applying for an application developer job in Dallas. He was very polished and well prepared, with a digital portfolio of his sample work. He made connections with the interviewers through research he completed beforehand. They were extremely impressed by his poise and knowledge.
Lastly, here is my final piece of advice that I give to any software development candidate, be positive! Before you sit down, take a few minutes to yourself to get in the right mindset. You want to be relaxed, an interviewer can tell by your body language if you are stressed.
I tell everyone to get your dance on before the software developer interview. Jam out to music beforehand and you will have the self-confidence you need to have a great interview. Best of luck!
About Genuent
Genuent is the technology staffing firm focused on delivering masterful technologists and resource solutions to solve complex technology and business challenges. Through relationships with our consultants and clients, Genuent is an element of change in the world of work. Founded in 2006 and headquartered in Houston, Texas, Genuent services clients nationally across the entire technology spectrum. www.genuent.com