Ways to Overcome IT Job Burnout
Career Advice, Employee Insights, Job Seeker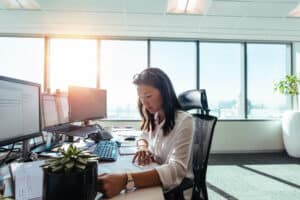 Margot Parsons | Resource Development Manager – Houston, TX
Finding the perfect job is hard, but making sure you commit to a steady work life balance is even harder. Unfortunately, IT job burnout is becoming more common as our work lives become busier, more demanding, and more technologically advanced.
Overcoming IT job burnout and getting back on the right track is crucial to your work life, your company's bottom line, as well as your personal life. In this article, we'll explore the causes, consequences, and how to handle becoming overworked in your current IT role.
Causes
Tight deadlines, intense analytical goals that need to be met and presented, and stressful working conditions are only a handful of reasons why employees become burned out from their current job. Obviously it depends on the type of tech job, but no matter what, if there is too much work for one person to do within a certain time-frame – the amount of stress on that employee becomes immense. These factors come into play when there is no motivation to work on the needed project.
Another factor that people might not consider with job burnout is the employee feeling guilty. Some employees feel bad taking days off and go months or even years without taking a vacation or personal day. This causes the employee to feel overworked and usually less happy in their position as time goes on.
Consequences
No one wants to feel burnt out at their job. Not only does it create a hostile work environment for the others around you, you are also not able to do your best since you don't feel your best. Some consequences of IT job burnout include stress, decrease in work quality, negative attitudes, and even leaving the job. Negative attitudes are especially bad for an office as this affects the whole team you work with. If one person is constantly complaining and being negative – it does not bode well for the other members of the team and thus causes a decrease in productivity.
Before it gets to that point though, it is important for the employee to address and talk about the issues they are facing at work – so they can be taken care of before things take a turn for the worst.
What to Do
Both employees and companies have an obligation when it comes to overcoming IT job burnout. When employees start to feel themselves becoming overwhelmed with the work load they currently have, communicating efficiently to managers helps them understand the stress you are feeling. There are ways to work around your schedule to make things less stressful – as many times managers do not realize the amount of the total workload, unless brought to their attention.
Other things to consider to help get over job IT job burnout. Not constantly checking your phone after hours. Due to work email being readily available on our phone, it's important to make time for less screens. One thing to try is when you get home from work put your phone on airplane mode for a bit to enjoy your home and family time. Once dinner is over, if the IT job demands you to check your emails, turn your phone back on and monitor. Making time for yourself and your family is crucial in achieving a healthy work life balance and not becoming overworked in your IT role.
Burnout is especially common in the fast-paced, competitive environment of the tech industry, which is why it is vital to take care of those feelings as soon as they arise. By addressing employee stress and burnout, companies improve on a human, financial, and operational level. Overcoming job burnout is key, and it all starts with figuring out what the most common sources of burnout are for the company's own employees since every company is different.
About Genuent
Genuent is the technology staffing firm focused on delivering masterful technologists and resource solutions to solve complex technology and business challenges. Through relationships with our consultants and clients, Genuent is an element of change in the world of work. Founded in 2006 and headquartered in Houston, Texas, Genuent services clients nationally across the entire technology spectrum. www.genuent.com