What You Need To Know To Prepare For and Ace Your Technology Interview
Career Advice, Interview Preparation, Job Seeker, Tech Career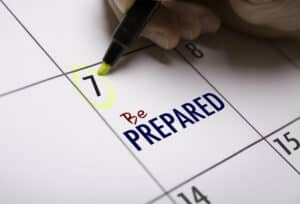 Andrea Cascos | Business Development Manager – Austin, TX
Every time I work with a candidate, I make sure that they are prepared for the interview. Prepare means many different things to people. I wanted to share with all of you some of the best steps in preparing for your interview. Now go out there and nail your interviews!
Step 1 – Preparing for the Interview
The first step in making sure that you ace your technology interview is preparing for it. I've never been a fan of "winging it." I tell candidates to make sure they conduct plenty of research on the company beforehand. I suggest creating what I call a "cheat sheet" and writing down notes on anything from who they're going to be speaking with to even small details like when the company was founded or how many office locations they have. You want to be sure to get a good grasp of your notes and understand the company's mission, what products or services they sell, the responsibilities of the job, etc. Practice how you're going to present yourself to the interviewer. I always suggest practicing in front of a mirror or role play with a colleague or friend.For the technical part of the interview – practice makes perfect. Be prepared to use a whiteboard or test on a laptop and create code during your interview. The interviewer typically is testing your problem-solving skills and how you go about getting to the end result verses finishing the problem quickly. Remember, the goal is to get an offer, put your best foot forward, and remain confident. This is not a rehearsal, but the actual performance.
Step 2 – Getting to the Interview
When making your way to the interview, you need to have everything in order from having your outfit picked out the night before to knowing where exactly you're going. Drive past the company the day before or map out your trip and arrive at least 15 minutes before the interview. I call this the 15-minute prep and typically your recruiter is there during this time to answer any last-minute questions. Use this time to get your nerves out and your mind focused. Reflect on how the next few hours are going to go and prepare to the best of your ability. Practice standing up straight, making good eye contact, having a firm handshake, good greeting, and most importantly – be confident.
I suggest candidates listen to positive podcasts or read something that is encouraging when waiting for the interview to ensure that their mind is clear. Listening to podcasts about careers, goals or positivity, reading a book or positive quotes, and talking to encouraging family members and friends are all great ways to get you ready to go and put your best foot forward.
Step 3 – At the Interview
Let the interviewer set the tone and make sure you're listening and answering their questions. Prepare your statements to have an end, make eye contact, and take down notes while staying engaged. If it is a technical interview, a coding assessment is likely.
Soft skills are just as important. Interviewers want to see your personality, how you problem solve, or even test how you'll be talking to potential team members and / or stakeholders. When asking questions, they are trying to see how you figure things out, not necessarily answer correctly. Take your time and make sure your soft skills are there to show how you carry yourself as a person.
It is just as much your interview as theirs. At the end of the interview, if you feel like this is a position you see yourself in and a company you would like to work for, I highly suggest you ask for the job on the spot. Express to them how much you've enjoyed speaking with them, learning about the opportunity and environment, and feeling like you can be an asset to the company. Ask them what the next steps are and if they need anything else from you. If they use the word "offer" and ask if you would accept it, let them know that if everything aligns with what you are looking for then you are confident that you would move forward.
Step 4 – Follow up
After your technology interview, I recommend sending a handwritten note thanking the interviewer. Go to the post office the same day and get a Thank You note out, so it could arrive within 24 hours. Handwritten notes are not done enough, and they definitely stand out. Thank the interviewer for their time and explain how excited you are for the opportunity. Call or send an email to the staffing firm representing you to ensure that they know you followed up with the client in attempts to keep the line of communication is open. Lastly, don't forget to keep your recruiter up to date throughout the process. They are your biggest cheerleader and will help you get across that finish line!
The team at Genuent makes up the top technology recruiters in Texas and across the nation. We're experts at delivering talent and resource solutions within the IT space. Visit our job listings today to find available positions in your area.