Why Professionals Leave Their Jobs in Technology
Career Advice, Employee Insights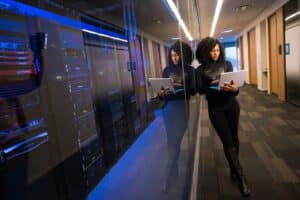 Regina Corey | Sr. Business Development Manager – Houston, TX
Professionals leave their jobs in technology for many different reasons. Sometimes, it's because of a spouse moving, personal matters at home, or even going back to school to pursue a new career. These are tough for an employer to address since the reasons, technically, do not have to do with the position.
However, when it comes to reasons such as, their job wasn't enjoyable, their strengths weren't being used, and they weren't growing in their careers, then it becomes a different story. It's important to address these concerns immediately with your employees, so you do not have them walking out the door.
Why It Happens
Unfortunately, there is no magic answer as to why exactly people leave their jobs in technology. Although there are ways to tell if an employee is getting too stressed within their IT position, which usually leads to an employee packing up their things and leaving.
From body language, to not having a good work life balance, to being micromanaged; there are many reasons why an individual feels the need to leave their current position.
Another reason that companies do not factor in is technology. If an environment is not part of the latest and greatest technologies, that drives a change, especially within the IT world. When companies are still set in old practices and technologies and are not willing to evolve or transform, that drives individuals to leave a company. It is important to combat these negative feelings before they spread throughout the space.
What to Do
A lot of times an employee is not 100% honest with an employer, which is why it is extremely important to make every employee feel as comfortable as possible so you know they are giving authentic responses. Staying open about communication is vital in making sure employees feel as though they are truly part of the company.
Talking openly with your employees and making them feel part of the team is crucial in the retention of employees. To create that team environment many companies are investing in game rooms and other activities of that nature so employees have an easier time bonding together. A main goal for many workplaces is the work environment being a "home away from home", with activities such as catered events, daycares on site, gym memberships, breakfast every week and much more. These small incentives keep employees happy and boost morale.
It's time to get a handle on why people leave their jobs in technology. Employers' perceptions of why employees resign differ a lot from reality. The important thing is that this is easily avoided. All that is required is a new perspective and some extra effort on the company's part.
About Genuent
Genuent is the technology staffing firm focused on delivering masterful technologists and resource solutions to solve complex technology and business challenges. Through relationships with our consultants and clients, Genuent is an element of change in the world of work. Founded in 2006 and headquartered in Houston, Texas, Genuent services clients nationally across the entire technology spectrum. www.genuent.com