Career Advice, Employee Insights, Employer Insights, Job Seekers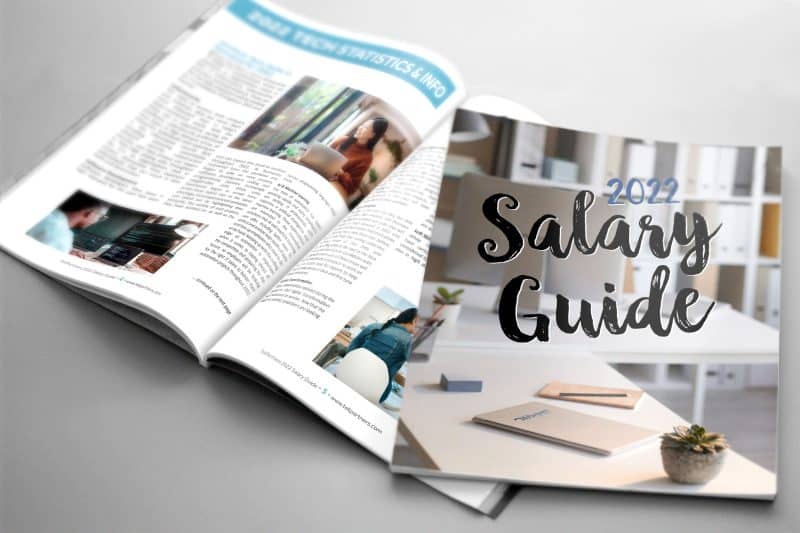 INSPYR Solutions 2022 IT Salary Guide
Inside you will find:
Technology Salary Data
Tech Skills in Demand for 2022
Where to Find Tech Jobs in 2022
Winning the War for Talent
The Future of Digital Transformation
Cybersecurity and Remote Risks
How Hybrid and Remote Models Are Changing How We Work
2022 was characterized by the "Great Resignation". An unprecedented number of people chose to resign and look for new jobs, and many more considered a change if the right opportunity came along. For the staffing and IT industries, this meant a new type of playing field, where top candidates were frequently able to call the shots and remote or hybrid options were often at play. Despite the amount of reshuffling we saw in the industry, many sectors were unequivocally thriving. The war for talent resulted in higher salaries for many sought-after roles in IT.
Cybersecurity roles were projected to be in high demand. With the extraordinary rise of cyberattacks like ransomware, phishing, and hacking, this trend showed no signs of slowing down. In fact, the increase in remote work made organizations even more vulnerable to these attacks. As a result, there was a significant need for IT security professionals who possessed the right experience and skills to help companies develop strong defenses and protect their data and vital software. This high demand for cybersecurity professionals is crucial for organizations to maintain their operations and avoid devastating data breaches.
As you continue through our Salary Guide, you will also see that we discuss how digital transformation affected the IT industry. Many organizations realized that they needed more sophisticated digital solutions to support distributed work models, maintain security, assist with data collection and interpretation, and so much more. More businesses invested in digital transformations that were long overdue, while others looked to remain on the cutting edge by continually building on their existing infrastructure. These needs created a high demand for certain IT roles related to cloud, infrastructure, and programming. We predicted that this would continue to be a driving factor in IT hiring throughout 2022.