DE&I in Tech: How to Improve Your Company's Strategy
Employee Insights, Employer Insights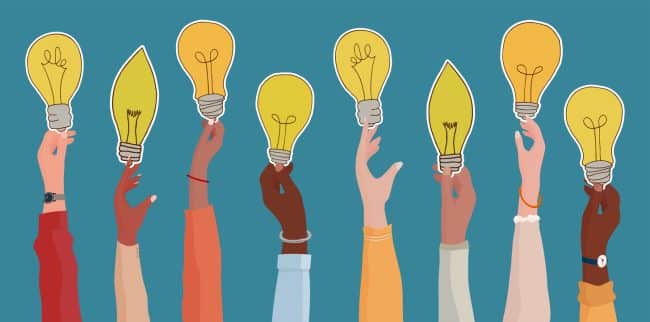 Has your organization's workplace culture become stagnant in recent years? With diversity, equity, and inclusion continuing to be a hot topic in the tech industry, companies that proactively invest in their DE&I efforts tend to have greater success in the realm of culture-building, hiring, and retention. There are many ways to improve your company's DE&I strategy that can have a monumental impact on many aspects of your organization. Here are some of the ways in which your leadership team can implement an effective DE&I strategy:
Shift your hiring approach.
Making a proactive effort to shift your company's hiring approach is essential for improving diversity efforts and ensuring inclusivity of all people within your workforce. Training your hiring managers on how to expand your talent pool and discover candidates from various networks and communities is key to achieving better hiring practices. This involves promoting job openings and engaging with candidates from varying backgrounds, such as veteran groups, women, and minorities. Marketing and engaging with these candidate groups will ultimately lead to more diverse hiring outcomes and a broader range of talent and perspectives within your organization.
Utilize collaborative technologies.
Sometimes even the most experienced technology leaders fail to embrace tech for the purposes of fostering culture and elevating morale. There are many technologies that can assist with restructuring elements of your company, such as applicant tracking, project management, and internal communications. Leveraging technologies within your company can play a critical role in creating a people-centered culture that values every person's performance, strengths, and talents. From fair hiring standards to improved employee communications, there are many benefits of integrating technology into the framework of your work environment.
Develop a culture of learning.
A "culture of learning" is one in which every employee is consistently given the tools and information to grow both personally and professionally. By making DE&I training available, you can teach your employees about the importance of creating an atmosphere that's welcoming of individuals of all identities, backgrounds, and ethnicities. Through ongoing education, your staff will have the foresight and knowledge to support the ideas, opinions, and talents of others while building meaningful relationships aimed at reaching shared goals.
By implementing the practices above, you can significantly leverage DE&I efforts while making transformative changes to many elements of your company.
Are you seeking a diverse array of talent for your company?
A staffing partnership with INSPYR Solutions can help! Learn how our IT staffing solutions can help you reach your hiring goals.