How to Promote Employee Well-Being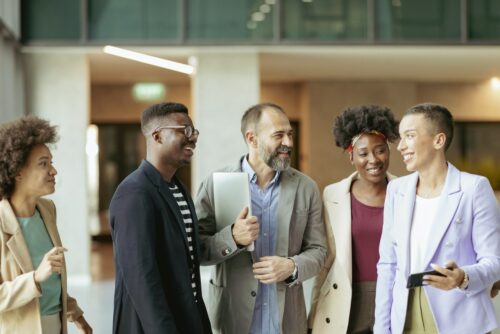 Employee well-being is integral to creating an organization that can attract and retain great talent. There are many factors that contribute to employee well-being, which means that there are many ways to cultivate it within your company. As our work culture has evolved over the last few years, it has become more important than ever for businesses to not just encourage employee well-being but also make it clear that it's an important part of company culture. Here are some of the ways you can promote employee well-being:
Start with Compensation
The first place to look at how you can better promote employee well-being is your compensation package. This is often going to be a potential team member's first impression of your organization and will show how your company cares for its people right from the start. Ensuring that compensation is competitive within your market and industry and that the package includes decent healthcare, dental, and vision options is a great start. Beyond the basics, having a generous PTO policy, parental leave, education reimbursement, stipends, and other types of compensation can make your company very attractive to candidates because they know they will be treated well there.
Create a Robust Wellness Program
Another way to show that your company is serious about employee well-being is to create and maintain a robust health and wellness program. Some health insurance providers can help your company kick off such a program with pre-built apps and program modules, which can make it easy to get started. Incorporating wellness activities, challenges, friendly competitions, health goals, and rewards are also great for getting your team involved and demonstrating that your company prioritizes wellness.
These can be things like "step challenges" where everyone tracks their steps to compete, participation in walks for charity, rewards for meeting personal health goals, and other activities that highlight health and wellness. It's important for your company leadership to be involved in these activities too, and for it to be made clear that management encourages participation by allowing time for team members to get involved.
Add Flexibility Where Possible
Where teams work is a hot topic right now, with many companies focused on return-to-office after years of remote and hybrid work. There are some companies that are going against that flow, however, and they stand out because of their flexible work policies. If it's possible in your industry, supporting a company culture that embraces hybrid or remote work, as well as flex time or asynchronous work scheduling can make it much easier for employees to support work-life balance. These policies can allow people the freedom they need to pursue hobbies and interests, be more present parents, fight burnout with self-care, devote time to caregiving for family members, and so much more. This can boost morale and help your company show that employee well-being is a priority.
Create the Culture You Want
Prioritizing employee well-being can help you create the kind of company culture you want. Another important factor is attracting the right talent for your business as well. The experienced team at INSPYR Solutions can help you find the people you need. Get in touch today to learn more about what we can do for you.