How to Promote Inclusion for Tech Workers with Disabilities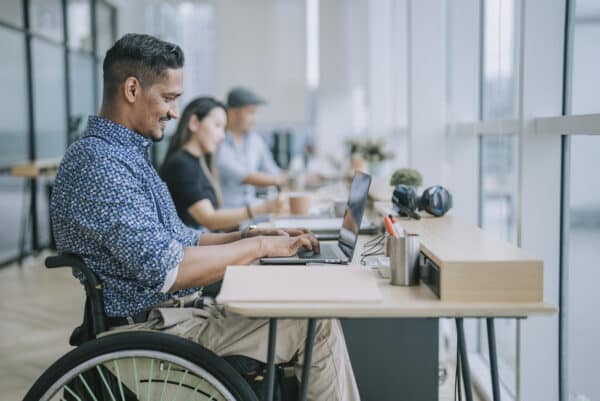 In order to ensure that your organization is creating a welcoming working environment for IT professionals living with disabilities, it's vital to keep this goal at the forefront of your company policies and practices. Here are some areas in which inclusion for tech workers with disabilities should be prioritized in the workplace:
Talent Recruitment
When an organization fails to implement a more inclusive IT recruitment process, you may miss out on the opportunity to work with some of the top tech talent on the market. One way to ensure that your hiring team is creating an inclusive space for new hires is to include an Equal Employment Opportunities (EEO) statement in each and every IT job description. This lets disabled tech professionals know that your organization will be a safe space for them to feel included and appreciated as a member of your team. When it comes to onboarding new IT workers, it will also be important to make any accommodations to support their needs, both personal and professional.
Accessibility
Although laws such as the Americans with Disabilities Act (ADA) protect workers with disabilities across the country, your organization can take further steps to become a champion for diversity, equity, and inclusion in the workplace. When it comes to accessibility, keep in mind that team members may live with disabilities that can't be seen by the naked eye. While ensuring that your office space has ramps, wide doors, and assistive devices is vital to creating a safe space for disabled employees, it's important to think beyond the physical and tap into resources that can support the disabilities, both physical and mental, of your tech talent. From benefits to wellness programs, there are many ways to promote inclusion by offering unwavering accessibility to resources for your IT workers.
Company Culture
Creating a company culture based on inclusion isn't hard, but it does take consistent planning and dedication. Regardless of an employee's disability, each and every member of your IT team should feel heard, seen, and included throughout any companywide events. Oftentimes, tech workers find themselves separated from the rest of the workforce on a day-to-day basis as they maintain the IT processes that keep organizations up and running behind the scenes. This separation is exacerbated when an employee has a physical or mental disability that may impact their ability to interact with other colleagues. Be sure to include your IT team in any companywide activities so that they know they are valued members of the organization. This will be vital to building an inclusion-based company culture, especially for IT workers with disabilities.
Are You Looking to Hire Top Tech Talent?
If your organization is looking to improve its IT staffing strategy to better value inclusion and diversity, INSPYR Solutions is here to help! Contact us today to get connected with the top tech talent on the market.
INSPYR Solutions provides Equal Employment Opportunities (EEO) to all employees and applicants for employment without regard to race, color, religion, sex, national origin, age, disability, or genetics. In addition to federal law requirements, INSPYR Solutions complies with applicable state and local laws governing nondiscrimination in employment in every location in which the company has facilities.