INSPYR Solutions Celebrates 20 Years in Business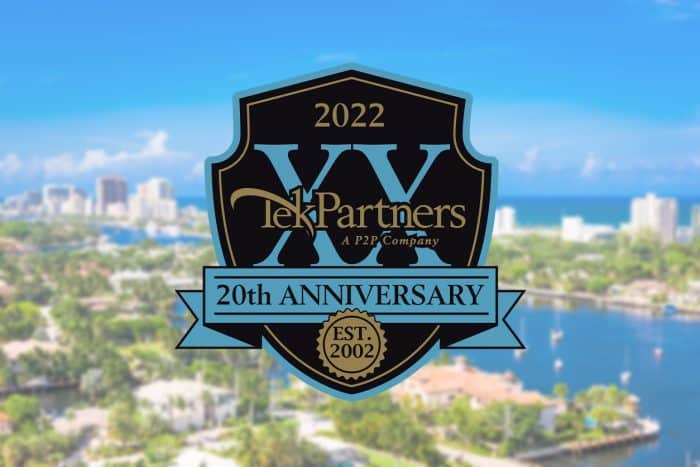 Fort Lauderdale, Fla. (March 18th, 2022) – TekPartners, now INSPYR Solutions, is celebrating 20 years in business as well as its many achievements over the past two decades. Founded in 2002 by Vito Scutero and Harris Katz, TekPartners has since become a well-known and trusted technology solutions firm in South Florida and nationwide.
The company grew from humble beginnings in South Florida to expand nationwide with offices in Fort Lauderdale, Miami, Orlando, Charlotte, and Milwaukee. During the past 20 years, TekPartners has served 900 clients throughout 48 U.S. states, as well as the District of Columbia, and beyond the U.S. in Canada, Cuba, and Great Britain.
TekPartners has flourished throughout the years, winning numerous industry awards and recognitions and building a strong and lasting legacy. The company looks toward a bright future ahead as it recently received a majority investment from A&M Capital Partners that will serve to take the company's growth strategies to the next level and accelerate its evolution.
In honor of the company's significant contributions to the Fort Lauderdale community by providing vital jobs and services, the City of Fort Lauderdale made a proclamation declaring March 18th, 2022 as TekPartners Day. The proclamation was unveiled by Mayor Dean J. Trantalis at a special celebration for company employees at a local Fort Lauderdale restaurant.
Jay Bevilacqua, former CEO of TekPartners, commented, "I want to thank Mayor Trantalis and the City of Fort Lauderdale for celebrating our anniversary with us, and for the honor of proclaiming TekPartners Day to mark this occasion. We truly love our home here in Fort Lauderdale and appreciate everything this city has done for us. The last 20 years have been an amazing ride, and we could not have chosen a better group of people to share this success with. We have a great team here at TekPartners that has consistently shown heart and hustle no matter what challenges we faced over the years. Our core purpose is to power organizations with proven talent to achieve their missions, and our team has never forgotten that. This has been the key to our success and I could not be more proud of the outstanding work our team does each day. I want to say a heartfelt thank you to each of the people who helped us get to where we are today. It's truly our culture and our team that have made this possible and I look forward to taking TekPartners to new heights in the coming years."
About INSPYR Solutions
As a leading technology solutions company, we connect top IT talent with clients to provide innovative business solutions through our IT Staffing, Professional Services, and Infrastructure Solutions divisions. There are four elements that set us apart and serve as pillars of our company philosophy: Quality, Expertise, People, and Relationships. By always striving for excellence in these areas and focusing on the human aspect of our business, we work seamlessly together with our talent and clients to match the right solutions to the right opportunities. Learn more about us at inspyrsolutions.com.