Tips for Better Hybrid Meetings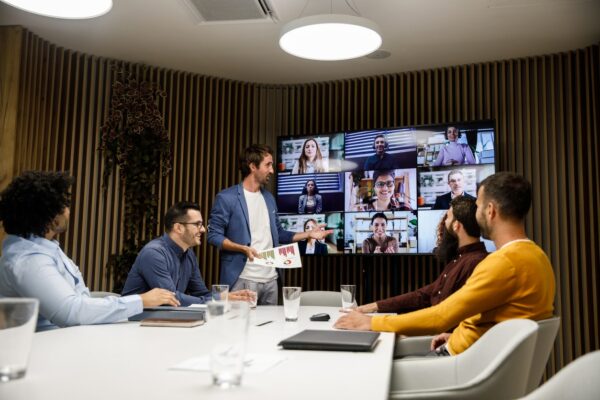 Hybrid meetings have become a common way of connecting teams across the country and around the world. Despite becoming the norm in many organizations, hybrid meetings sometimes fall short of expectations for a variety of reasons. Here are some of the ways you can work to improve the hybrid meeting experience for everyone.
Consider How Everyone Will Participate
One of the challenges of hybrid meetings is encouraging equal participation for all team members whether they are in the room or attending virtually. It can be difficult for virtual meeting participants to get a word in if there is a lively discussion happening in a conference room, for example. This can be frustrating for your virtual participants and may mean your team misses out on great ideas or discussion. One way to handle this challenge is to designate someone as a meeting facilitator or moderator. This person will keep an eye on the remote team members and make sure they are acknowledged if they are raising their hand (virtually or literally) or if there are questions in the meeting chat. Having someone act as an advocate for the remote team members makes hybrid meetings more accessible and encourages participation.
Use Tools for Collaboration
Another great way to make sure everyone gets to take part in a hybrid meeting is to utilize tools that make it easier for everyone to collaborate. Digital whiteboards make it easy for everyone to participate in brainstorming sessions, for example. An AI notetaking app can make meetings more accessible by transcribing what people are saying, and it makes it easier for team members to focus on the discussion since they can refer to the notes. There are even apps that allow you to integrate polls and other engagement tools into a meeting, making it more interactive for everyone. Many of these tools integrate seamlessly with popular meeting programs like Teams or Zoom, making it easy to integrate them into existing infrastructure.
Set Expectations
An important component to making hybrid meetings successful is setting expectations from the start. Take time to acknowledge everyone for joining, have a straightforward agenda, and make your expectations for using the available tools clear to the team. This will set the standard for hybrid meetings going forward. It's also a good idea to get feedback from everyone on how they feel about these meetings and how they could be improved. This can help you adjust accordingly, tailoring your tools and approach as needed. In addition, setting some ground rules and reminders for attendees depending on their location can help take a lot of stress out of hybrid meetings:
In-Person Attendees
Use a conference room where you can have the virtual attendees on a screen so they can be seen. If this is not possible, in-person attendees should use laptops so they can see everyone.
Be mindful of lag and give virtual attendees time to respond.
Remember that virtual attendees may be trying to catch your attention by raising a hand or using the chat feature.
Virtual Attendees
Be mindful of sound – use a headset or headphones with a microphone and mute yourself when you are not speaking.
Raise your hand (either virtually or literally) to get attention before you start speaking. This is especially important in larger groups.
Utilize the chat feature for clarity or to avoid speaking over someone else.
Looking for IT talent?
Whether you need project support or you're looking for an advanced technology solution, our team is here to help. Get in touch with us today to learn more.