Tips for Effectively Managing IT Contract Workers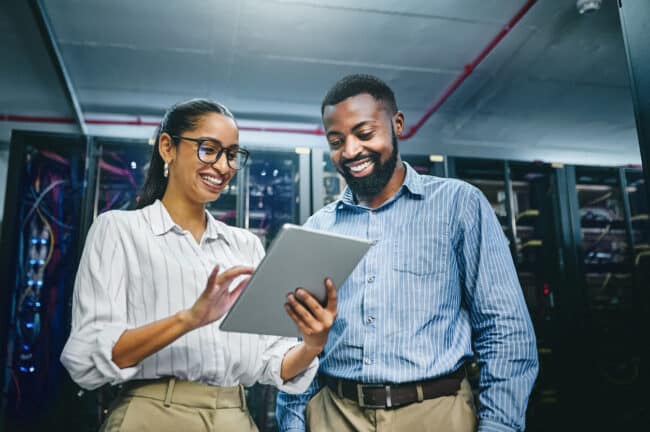 Is your HR team overwhelmed with the process of recruiting and hiring contract IT employees? Acclimating contract workers within your organization is vital to building a team that can effectively collaborate to complete projects and fulfill organizational goals. Here are three best practices for managing IT contract workers to ensure optimal success:
Set shared expectations
As contract tech workers begin their assignments at your company, it is essential to set shared expectations both verbally and in writing. This includes discussing responsibilities and all company guidelines with your contract employees, just as you would with your full-time staff. The onboarding process is generally the ideal time to go through these expectations with contract IT workers because it will allow you to answer their questions and address any concerns right off the bat. Creating a solid understanding of their roles within the context of your organization will the set the stage for greater productivity amongst your team of contract IT employees going forward.
Leverage specific strengths
Even if you hire various IT workers to complete similar projects or tasks, each contract employee will have his or her own set of strengths. Leveraging the specific skills and qualifications of each worker – such as assigning different responsibilities or forming small teams – will ensure that your contract IT workforce is reaching its full potential. You may also encourage your contract tech workers to share ideas with one another and offer expertise in their particular areas of knowledge. This practice will enhance the performance of your entire team, allowing every employee to contribute their greatest assets.
Maintain communication with your IT staffing firm
By maintaining close communication with your staffing firm, you can ensure the best hiring outcomes for future IT staffing needs. As your IT department evolves over time, having a strong partnership with your IT staffing firm will be instrumental for recruiting the right types of IT workers based on the specific sets of skills and competencies needed at your company. IT contract employees are often needed to fulfill roles associated with short-term projects in which additional support may be necessary. From entry-level IT employees to upper-level managers, your staffing firm will streamline the recruitment and hiring processes of contract IT employees on an ongoing basis.
By following these practices, you can effectively manage your team of contract IT employees with confidence knowing that they have the tools they will need to perform their roles to the best of their abilities within your IT department.
Is your company seeking qualified IT contract workers?
Get in touch and learn how INSPYR Solutions, a top IT staffing firm, can help your hiring team recruit the best IT candidates on the market.