DEI in Tech Starts with DEI in Recruitment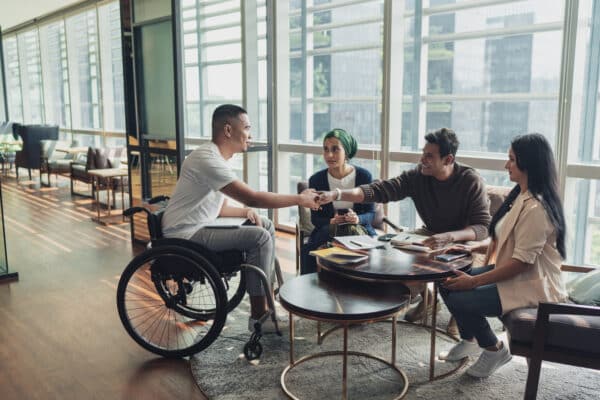 Now more than ever, tech organizations are prioritizing diversity, equity, and inclusion (DEI) in all aspects of business to drive innovation and harness divergent thinking. But did you know that prioritizing DEI in recruitment can lead to greater profitability in the long run? Here's how you can harness the power of diversity to enhance your organization's bottom line:
Know your people.
If you're looking to improve your organization's DEI initiatives, it will be important to know where you're starting from. Being not only aware, but also appreciative of the backgrounds of your tech team will allow you to tap into their unique experiences when enhancing your IT recruitment strategy. Whether they identify with an underrepresented race, gender, ethnicity, religious affiliation, national origin, sexual orientation, language, disability, or age, your current IT workers can bring a wide range of perspectives to the table. If you're unfamiliar with the backgrounds of your people, you may be missing out on opportunities to gain valuable insight from IT workers who have a lot more to bring to the table than just their tech expertise.
Adjust your process.
If you never update your IT recruitment process to reflect new insights and industry trends, you'll continue to get the same results when it comes to hiring new tech talent. Similarly, if you tap into the same networks you always have when seeking out IT workers, you'll continue to come across the same types of people. If you're looking to hire the top tech talent on the market all while bringing more diverse perspectives to your organization's table, adjust your IT recruitment process to value diversity, equity, and inclusion just as much as you value traditional qualifications. Rather than hiring the IT worker who has worked for the most well-known tech company, hire the IT worker who has the widest range of life experiences, such as a military veteran, an immigrant, or the candidate looking to change career paths.
Enforce your protocol.
It's easy to say that you'll commit to prioritizing DEI, but actually following through with that commitment takes consistent dedication, especially when it comes to recruiting tech talent. While crafting a press release or enhancing your vision statement to solidify a companywide commitment to DEI is a great start, such protocols must be enforced from the top-down to ensure that your organization is harnessing the power of diversity in the workplace. With so many qualified IT professionals on the job market, make it a priority to look beyond their resumes and hire tech talent who can bring not only their IT expertise, but also their unique perspectives to the table.
Restructuring your business goals to reflect your commitment to diversity, equity, and inclusion starting with the way you recruit IT talent will drive innovation throughout your organization, ultimately impacting your bottom line.
Is Your Organization Ready to Make DEI a Priority?
If your organization is looking to enhance its DEI in recruitment and connect with diverse tech talent, INSPYR Solutions is here to help! Contact us today to learn more about how improving your organization's DEI initiatives through an IT staffing partnership with us can benefit your bottom line.