Hot Jobs: UI/UX Web Designer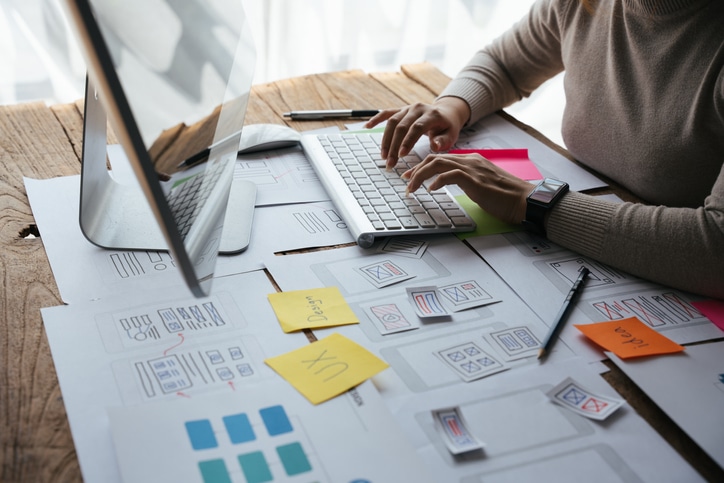 UI/UX stands for user interface and user experience. Web designers with this specialty combine technical skills with a strong understanding of design and a healthy streak of creativity. Any organization that has an investment online has a need for these kind of IT professionals because they are ultimately responsible for the quality of the experience that all web traffic enjoys. If you are interested in taking what works on the internet and making it even better, this could prove to be a rewarding career path.
Job Description
UI/UX web designers are responsible for crafting the look and feel of online environments. This includes things as basic as forms, and as complex as elaborate scrolling backgrounds. Unlike other types of web designers who focus more on nuts and bolts issues or back-end concerns, UI/UX is concerned only with the elements of a web page/site that face outwards towards the user. The goal is to create interfaces and experiences that are intuitive, engaging, exciting, and that encourage a repeat visit or deliver a sense of satisfaction.
Required Skills
Strong understanding of graphic design
Ability to code with HTML and CSS
Understanding of multi-platform development
Strong written and communication skills. Public speaking skills help too
Understanding of user psychology and design best practices
Education Requirements
Unlike many other IT professions, demonstrable experience is typically more important for finding work as a UI/UX designer than having a specific degree. If you have an impressive portfolio and an understanding of the latest technologies affecting UI/UX, you may be able to land a job with even a large company. That being said, a bachelor's degree in web design, computer science, graphic design, or digital arts can all be an asset. UI/UX design is still a relatively new discipline, but some forward thinking schools are offering classes specifically focused on it.
Job Outlook
According to the Bureau of Labor Statistics, the job outlook for web developers – an employment category that includes UI/UX web designers – is especially bright. The field is expected to grow 20 percent by 2022, adding 28,500 new jobs. The current median salary stands at $62,500 a year, or $30.05 an hour. Especially talented UI/UX wed designers can expect to earn more than that, especially if they are employed by prestigious internet brands.
Current Vacancy
A company in Charlotte, NC is currently looking for a UI/UX web designer to build front-end features for all company websites. The ideal candidate has 5+ years of experience, and a degree in web design in preferred. Starting salary is listed at $90,000. To learn more about this position, search for UI/UX web designer on our job board.
If this sounds like a line of work that you would like to pursue, work with the specialized staffing experts at INSPYR Solutions. We can direct you towards open positions and help you bolster your chances of getting first an interview, and later a job offer. Contact us to learn more.