How To Be a Team Player in Your IT Career
Career Advice, Job Seekers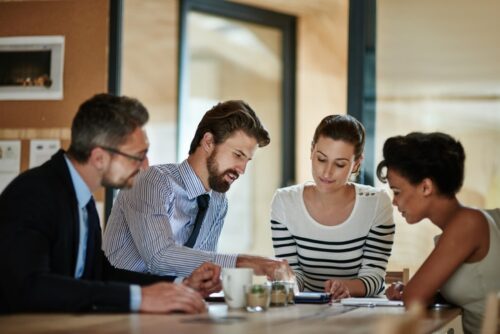 When it comes to your IT career, it's important that you learn to work well with others so you can be someone who stands out to both management and peers for being a team player. When you're a team player, you're helping everyone succeed and pushing for the achievement of the team as a whole. If you're not considering the big picture when working toward your goals, then it's time to think about how you can align yourself to help your entire team achieve success.
Top Skills to Be a Team Player
If you want to succeed in the long term, it's crucial to be a true collaborator at your organization. Part of being a team player is providing support to your team as you grow in your IT career, helping to lift up others so you can all reach your goals. These are some of the top skills needed to support your IT team's growth:
Leadership.
It doesn't matter whether you are an entry-level professional or a VP, it's important to always be a leader on your team. This can include anything from helping someone understand a task better or bouncing ideas off one another to working one-on-one with team members that need more direction and guidance. These are all ways to demonstrate leadership. If you lead by example and show your drive for success, you are encouraging the rest of your team members to do the same.
Support.
Truly considering all the needs of your team and being supportive is essential to being a team player. Whether you're helping others understand aspects of a project and how it all fits together or smoothing ruffled feathers due to a conflict, knowing how to promote teamwork and team harmony by understanding where people are coming from is essential to being a great team player. Understanding what your team needs as a whole while listening to each individual are great ways to help the whole team work together so you can reach your collective goals and accomplish great things.
Attitude.
Approaching work with your team with the right attitude is something that can take a great deal of discipline and skill, especially when things may not be going smoothly. As a leader within your team, it's important to set a good example and help others find their way to the right attitude as well. One person with a bad attitude can bring down the whole team and make working together difficult, so team players are people who try to get to the bottom of the issue so everyone can move on.
How Being a Team Player Helps Your IT Career
In order to succeed at team projects and meet your goals as a team, everyone must work together. By becoming a team player and leading the way by demonstrating a positive mindset, you can encourage the rest of the team to follow in your footsteps.
Not only will your whole team succeed, but proving your abilities as a cooperative worker can help pave the way to the next step in your career. If you're interested in being a team lead or manager, for example, demonstrating your abilities can help you work your way up. Working together with your team members to create an environment in which you can depend on one another as you tackle various projects is key to succeeding as a team. When the team succeeds, you all succeed.
Looking to take the next step in your IT career?
If you're a team player searching for the right team to join, then you've come to the right place. Take a look at our current job opportunities and apply today to get started.