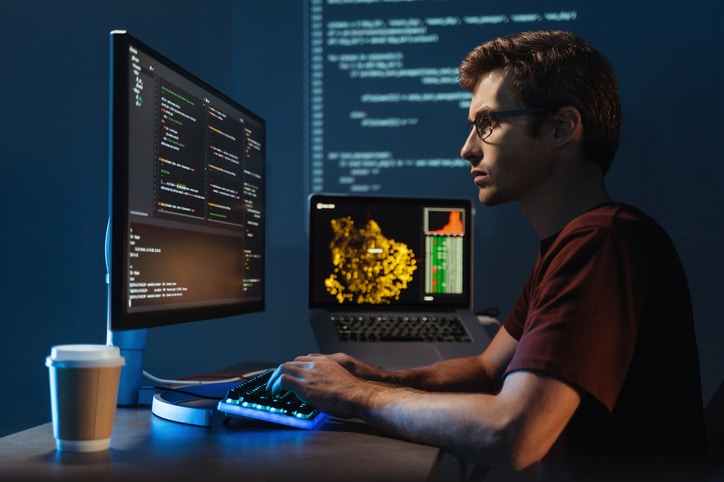 The bleeding edge of technological innovation happens on the Internet, and PHP engineers are right there at the forefront. They are responsible for developing and implementing a wide variety of web-based products that support the core functions of online environments while pushing their capabilities in bold new directions. If you are looking for an IT career that offers job security, lucrative compensation, and the chance to work on exciting and innovative projects, becoming a PHP engineer could be the right choice for you.
Job Description
PHP is a server-side scripting language that is broadly used for development online. Professionals working as PHP engineers build websites, applications, and programs according to the needs of their employer. Typically, these engineers work for software companies, web design firms, and technology companies, but companies in a wide variety of  fields need help with PHP. Common duties usually involve modular programming, application design, object-oriented programming, troubleshooting, and application development.
Education Requirements
In order to become a PHP engineer, you will generally need to have a four-year degree in computer science or a related discipline, and an emphasis on web development is helpful. It may be possible to secure a position in the absence of a degree with the right combination of experience, but these opportunities are rare. The most successful PHP engineers have developed strong skills in math, logic, and analytic reasoning. Plus, since these professional often work on large teams, interpersonal skills are essential.
Job Outlook
The Bureau of Labor Statistics reports that this is a great time to become a PHP engineer. According to their research, the field of software development – a category that includes PHP engineers – is expected to grow 22 percent by 2022, much faster than the national average for all careers. As many as 222,600 new jobs are predicted to open up. Right now, software developers earn a median salary of $93,350 or $44.88 per hour, but as demand for qualified professionals increases, pay is likely to increase as well.
Current Vacancy
A company with locations in both North Carolina and Florida is looking for a QA analyst with PHP expertise to handle load testing. The chosen candidate will have at least seven years of experience, a proven ability to devise, conduct, and analyze load tests, and expertise with Load Runner, Jmeter, Selenium, QTP, Cucumber, QC, JIRA. The stated salary falls into the range of $85,000-$100,000. If you would like to learn more about this opportunity and apply, search our job board for the keyword "PHP."
If a career as PHP engineer sounds like an exciting prospect, you need to take a proactive approach to getting the position of your dreams. Work with INSPYR Solutions to get where you want to be faster.