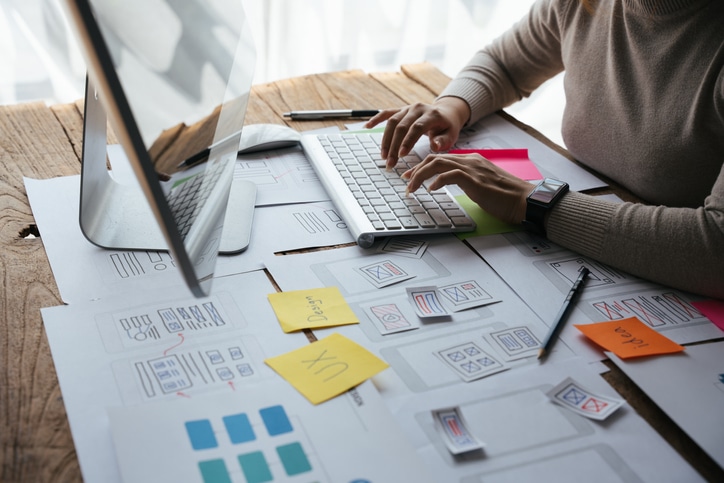 UX designers are essential to the way that we utilize technology. They create the interfaces that connect users with the features of everything from websites, to applications, to ATM terminals. As a result, UX designers are very in-demand right now, and can expect to be courted by the biggest tech companies in the world. It you are looking for career in IT that combines technical acumen, creativity, and even some psychology, this might be the career for you.
Job Description
UX stands for user experience. This somewhat vague term refers to the experience that users have when they work with a piece of technology. The goal in all projects is for the experience to be intuitive, engaging, and to ultimately serve every need of the user. In practice, they might design the site map of a website so that users can jump naturally between pages. They could work on the interface for a new piece of software to shorten the learning curve. On almost any and every piece of technology, a UX designer will have some kind of input.
Education Requirements
UX designers have been around for a long time but it was only with the advent of the internet that they started to become truly ubiquitous. As a result, there are only now starting to be specific degree programs that teach the necessary skills. Frequently, UX designers have degrees in come combination of information architecture, design, computer science, and psychology. Some schools are starting to offer degrees in interaction design and new media design, but their availability is limited. As with all jobs in IT, the more education you have, the better your career prospects will be.
Job Outlook
The Bureau of Labor Statistics does not keep statistics specifically on UX designers, but they do for web developers, which is probably the closest-related field. According to their forecasts, the field of web development will add 28,500 jobs between 2012 and 2022 and experience 20 percent employment growth overall. Currently, the median pay for a web developer is estimated at $62,500 per year, but UX designers working at prestigious companies or on major projects can expect to earn significantly more than that.
Current Vacancy
A company in South Carolina is looking for a UX designer to develop front-end elements for all its company websites. The desired candidate must have a degree in web design and at least five years of professional experience. The starting salary is listed at $90,000 per year. To learn more about this intriguing opportunity, visit our job board and search for "UX Designer."
Is a career as a UX designer something that intrigues you? If you said "yes," or you're interested in other fields of IT, rely on the tech-career experts at INSPYR Solutions to help you accomplish your goals faster.