The Future of Cybersecurity: Salaries and Job Outlook
Career Advice, Job Seekers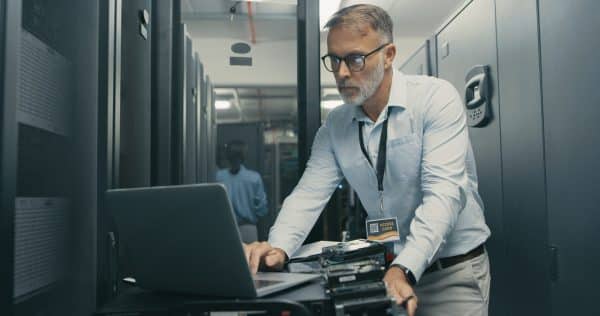 Are you an IT professional planning to take your career in a different direction this year? Cybersecurity jobs and salaries are on the rise. The ever-growing cybersecurity field offers many lucrative opportunities across the country to advance and increase your earning potential. As one of the most in-demand industries, the U.S. Bureau of Labor Statistics projects that the cybersecurity sector is expected to grow by 31 percent between 2019 and 2029, accelerating at a much faster rate than the average occupation. As you consider launching your cybersecurity career, here's what you should know about the future of the field:
Ample educational opportunities
Whether you're hoping to pivot into a cybersecurity position or advance in your current cybersecurity career, there are ample educational opportunities to expand your knowledge and increase your skills in this area of IT. Many cutting-edge degrees and certification programs cover a multitude of critical topics, including cloud security, machine learning and AI, software design, and networking. With so many resources and the flexibility offered by many programs, it's certainly possible to pursue cybersecurity education while working a full-time job or raising a family.
Variety of specialties and career paths
What's unique about the cybersecurity field is the vast number of specialties and focus areas available to pursue. Depending on your specific skillset and professional interests, there are many positions to explore within this area of work. Some of the various positions of cybersecurity professionals include security specialist; security manager; chief information security officer (CISO); information security analyst; computer forensics expert; and source code auditor, among many others! From national security agencies to private corporations, cybersecurity professionals work in many capacities.
Competitive salaries
As public entities and private employers increasingly require cybersecurity teams to fulfill data and network security needs, professionals will continue to command higher-than-average salaries across the board. Cybersecurity pros earn an average median salary of $100,000, making it one of the highest-paying areas of the IT field. Pay is typically dictated by level of experience and technical ability, making it important for candidates to receive necessary training and education.
As you can see, there are many appealing benefits of working in the cybersecurity field. By being open-minded to different job options, you can pursue a path in the industry that aligns with your professional strengths and interests.
Looking for cybersecurity jobs?
Contact us at INSPYR Solutions, a top IT staffing firm, and let our team connect you with cybersecurity opportunities that match your qualifications and skills.