Tips on Managing Your Professional References
Career Advice, Interview Preparation, Job Seeker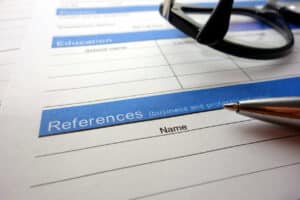 Joni Benton – Atlanta, GA
You keep your resume up-to-date. You look for positions that fit your skills. You speak with recruiters that are able to assist you. You interview well. But, what about your references? Have you been managing your professional references?
Whether you are looking for application development jobs, business intelligence jobs, project management jobs, information security or other technology jobs, we all take for granted that we have a list of people that we will use for references. We have assembled this small list of people over the years, but have you kept up with them? Are they still relevant to the roles that you are searching for and what will they be saying about you?
Over my 23 years in technology recruiting, I have seen some things that would bother you if it happened to you. For example, I called on a reference one day and when I connected with the person and told them what and who I was calling about, the first thing they said was, "They put me down as a reference?" I knew right there it was going to be a problem. They went on to say that they had not worked together for over five (5) years and didn't feel very comfortable talking about their current technology capabilities. They also told me that they weren't all that impressed with the person to begin with. Simply put, this reference was not going to be helping the candidate get the job and told me a few things that really concerned me.
With this said, I wanted to share some advice with you about how to manage your references.
Have a list of 3 to 5 professional references ready to go at all times.

Be sure to have their current company, title, email and phone as well as where you worked together.

Reach out to them periodically to maintain the relationship, but especially when you are beginning a new job search.

Ask them if they are willing to give a positive reference (don't assume because the last thing you want to hear is what I mentioned above, "They put me down as a reference?") Note: Recent Managers are always better because if it has been a number of years, we will be wanting to know what they really remember about you.

Always reach out to them to let them know that someone will be calling them for a reference.

Share your current resume and inform them about the job and how you think you would be a good fit in order to give them an idea of where you would like them to go with the reference.

Always thank your references afterwards and if you get the job, be sure to let them know.
References are not something that you want to take lightly. A strong and detailed reference gives employers a perspective of you that they do not get. The reference is a stamp of approval that makes you a much more desirable candidate. If a candidate lets me check references early, then I include what was said about them with their information to the hiring manager. I am sure to discuss exceptional references with the manager and drive home the point that you are a great candidate. In the words of Jerry Maguire – help me, help you. I hope you find this information helpful and be sure to manage those references.
About Joni
Joni Benton has been with Genuent for over 6 years recruiting for a variety of technology roles from application developers to business intelligence to project management, security and more. Based in Atlanta, she is focused on assisting her technology candidates find the careers they want. Their success is her success.
About Genuent
Genuent is the technology staffing firm focused on delivering masterful technologists and resource solutions to solve complex technology and business challenges. Through relationships with our consultants and clients, Genuent is an element of change in the world of work. Founded in 2006 and headquartered in Houston, Texas, Genuent services clients nationally across the entire technology spectrum. www.genuent.com