Top Skills IT Managers Want
Career Advice, Job Seekers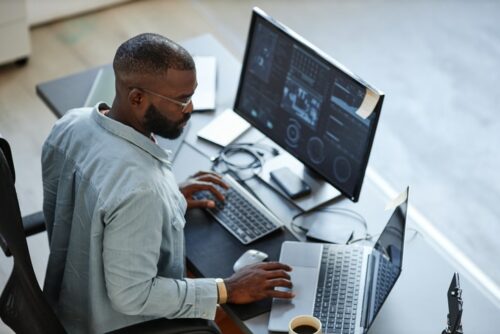 If you're looking to score the best contract IT positions available in today's job market, it's important to cultivate the skills IT managers need. As you know, the IT industry moves swiftly, so skills you mastered just a few years ago may be less relevant today. That's why it's important to stay on top of your field and always keep learning new skills and gaining relevant certifications. Here are some of the skills hiring managers are looking for in IT candidates today:
Software/Application Development
Many businesses, regardless of their size or industry, are interested in developing and maintaining their own software and applications for both internal and customer use. IT professionals with the right kind of expertise can be hard to find, however. That's why IT candidates with a demonstrable history in software and application development as well as experience managing mobile devices on an enterprise-wide level will immediately stand out to hiring managers who need help with their software and apps.
Help Desk/Technical Support Skills
Being a technical expert is one thing, but being a customer service expert in addition to having those technical skills is a highly sought-after combination. Businesses consistently struggle to find contract IT employees with both the technical skills to diagnose a problem and the people skills to help other employees work through their IT issues and solve problems. Tech support may sound like nothing new, but it is a persistent staffing challenge for IT managers everywhere. If you can demonstrate that you have both the technical know-how and the people skills to work in this type of role, you will catch hiring managers' attention.
Cloud Computing
Today, it's no question that business happens online, and for the majority of companies, that means managing some form of cloud system for storage and applications. According to G2, 80% of companies spend over $1.2 million annually on the cloud. Between cloud hosting and computing services and the various processes and hardware needed to support it, there is a great deal of opportunity in this field. If you have networking and cloud computing experience, your skills are in high demand and will continue to be for the foreseeable future.
Project Management
As the economy recovers, businesses will be interested in bringing on new employees and initiating new IT projects, so they will need IT professionals with project management experience. The most in-demand project managers balance IT experience with business acumen in order to serve the needs of their organization in a budget-friendly way.
Looking for Work in the IT Field?
These skills are likely to get you noticed by an IT manager with a vacant position to fill, but there are other skills that are always in demand too. These include database administration, security compliance/governance, cybersecurity, and business intelligence/analytics.
Whether you're looking for your next contract IT position or a permanent job, INSPYR Solutions has a wide variety of job opportunities for you to put your skills to work. Check out our current jobs and apply today!