Employee Spotlight: Kelsey Kasza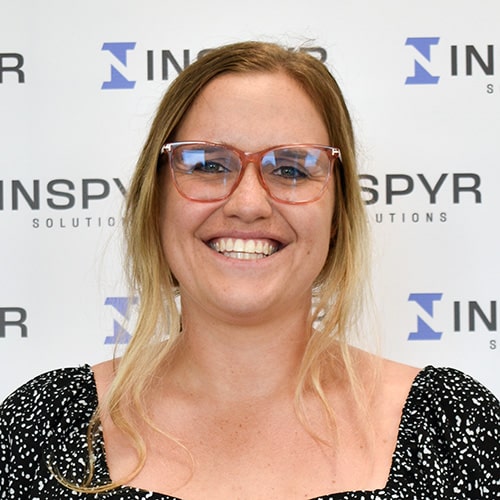 Meet Kelsey Kasza, Technical Recruiter in our Charlotte, NC Office!
When did you start working at INSPYR Solutions?
June 25th, 2018
What territory do you manage? If you do not manage a territory, tell us a bit about what you do.
I work as a Recruiter in the Charlotte Office.
Brief summary of skills and/or specialties:
As funny as it sounds, I am known as the best note taker from my fellow recruiters in Charlotte. I also think I am able to easily build relationships with each and every candidate I work with. I think that that is important so that you place them in the job that is best suited for them as well as the company that embraces a culture that is comfortable for them.
What is an interesting/fun fact we would be surprised to learn about you?
I am a former softball player. I was lucky enough to play the sport that I love from 5 all the way through college.
What is your best work memory?
My best work memory thus far was this past December when our office broke a monthly placement record as a group. It was exciting to see everyone's hard work come together and see the amazing result of that hard work.
At INSPYR Solutions, we are People helping People. Tell us about a time you really connected with someone:
I always think of my first placement. She and her family just moved from Chicago to Charlotte. She had spent her whole career working crazy hours and as a result didn't get to spend as much time with her kids as she would have liked. I was able to place her at a client that allowed her to have flexible work hours and therefore her dream of spending more time with her family came true. She just got a full time role with them and is so happy. That is a such a great feeling – to know you made a difference in someone's life like that.
What makes INSPYR Solutions different from any company you've ever worked for?
I am so grateful to work in an office where I enjoy everyone that I am working with. As the Charlotte office grows, it's exciting to meet new people and I feel that we all bring something different to the table. The INSPYR Solutions company values, the people, and the leadership are extremely professional and the energy is always high and full of positivity. It's amazing to work in an atmosphere like that every day.
What core value (Be the Best, Understand the Urgency, Never Give Up, Have the Courage to Excel or Make A Contribution) do you relate to most, and why?
"Make a Contribution"
I think it is important to remember as a Recruiter that along with all the success of getting placements and making money, you are also contributing to someone's life. You might be helping someone get back on their feet after a layoff or helping someone get their dream job. Seeing my contractors and candidates succeed is an amazing feeling.
Want to join our team?
At INSPYR Solutions, we offer a world-class, supportive culture with the aim of growing and developing a team of recruiting experts who truly enjoy helping people find jobs. In addition to the opportunities offered by becoming part of our team, we have a competitive compensation package that includes medical and dental insurance, paid time off, a 401(k) plan, and other generous perks such as monthly team celebrations, a hybrid work model for tenured team members, a higher compensation plan for top producers, and our The IN Club reward trip. Check out our current opportunities today!