Employee Spotlight: Michele Miller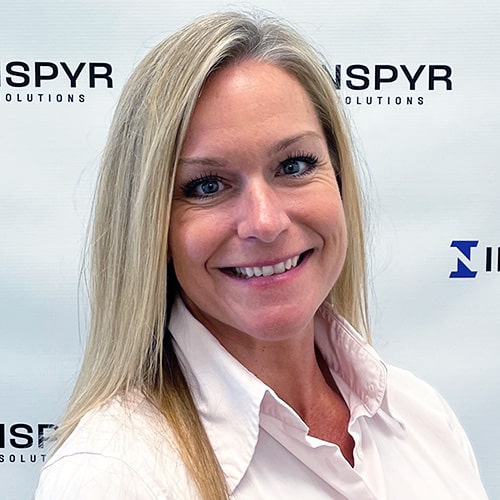 Meet Michele Miller, Payroll Manager at INSPYR Solutions!
When did you start working at INSPYR Solutions?
April 6, 2021
Tell us a bit about what you do:
I run the payroll for all internal employees.
Brief summary of your skills and/or specialties:
My background is primarily payroll, but I also have experience with benefits and human resources, as well as accounts payable and accounts receivable, and office management.
What is an interesting/fun fact we would be surprised to learn about you?
Nothing surprising, but I love functional fitness, live music, being on the water, fishing, and relaxing at the beach, and food. Oh, and hugs. I love hugs.
What is your best work memory?
I'm very grateful to say that I've had the opportunity to work for and with many very successful companies and great leaders who were always willing to teach and mentor me and help me to grow.
At INSPYR Solutions, we are people helping people. Tell us about a time you really connected with someone:
In my short time here, I've had many opportunities to correspond with both employees and managers. It's occurred to me that I have yet to correspond with anyone who has a negative attitude. Everyone here has such a positive attitude.
What makes INSPYR Solutions different from any company you've ever worked for?
So far, I really like the "vibe" in my department. Everyone is so helpful and team-oriented and really work together for the greater functionality of the team.
What core value (Be the Best, Understand the Urgency, Never Give Up, Have the Courage to Excel or Make A Contribution) do you relate to most, and why?
Have the Courage to Excel or Make a Contribution. In my recent history I've taken small leaps of faith, through the encouragement of others, which despite insecurities and fear of failure, proved to be successes. It's given me the courage and confidence to know that I can be successful and that I do have something to offer. I hope to motivate others who might also be too insecure to Go For It.
Want to join our team?
At INSPYR Solutions, we offer a world-class, supportive culture with the aim of growing and developing a team of recruiting experts who truly enjoy helping people find jobs. In addition to the opportunities offered by becoming part of our team, we have a competitive compensation package that includes medical and dental insurance, paid time off, a 401(k) plan, and other generous perks such as monthly team celebrations, a hybrid work model for tenured team members, a higher compensation plan for top producers, and our The IN Club reward trip. Check out our current opportunities today!